Taking research to wider society
Four University researchers have been recruited to help promote the work of academia to the public.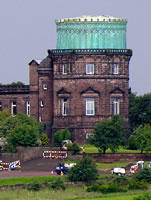 The researchers will join a team of seven Fellows, appointed by the Edinburgh Beltane, a scheme that promotes the benefits of university research to wider society.
Over a six month period the researchers will be showcasing a variety of topics.
These will include astronomy, bilingualism, health, biomedical sciences, maths, and physics.
A beacon for public engagement
The Fellows from the University are:
Stuart Lynn, an astronomer, who will be building an interactive website to engage people with the research that takes place at the Royal Observatory of Edinburgh.
Professor Antonella Sorace, a linguist, will develop a new service to promote the benefits of bilingualism in children to parents, teachers and policy makers.
Dr Marieke Hoeve, an immunologist, whose project will focus on increasing public understanding of the spread of Infectious Diseases.
Alan Walker, a physicist, with several years experience of educating school children and other audiences about particle physics, will become a mentor and Honorary Fellow for the Beltane Fellow scheme.
Promoting university research
We are delighted to have such a great team of researchers dedicating their time to public engagement, and are looking forward to sharing their experiences with others who might be wondering how they can make their research connect to a wider audience
The Public Engagement Fellows were announced at the Edinburgh Beltane 2009 Annual Gathering.
This article was published on