30 years of Bedlam
This year marks the 30th anniversary of the Bedlam Theatre, the oldest student-run theatre in the UK.
Opening its doors in 1980, the Bedlam Theatre rapidly established itself as the nerve centre for student drama and comedy in Edinburgh.
It has since produced a generation of talent now working within the UK's theatre, film and TV industry.
For more information see the Bedlam Theatre website.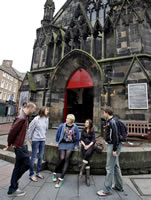 Student-run
Home to the Edinburgh University Theatre Company (EUTC), the Bedlam Theatre hosts forty shows per academic year.
There are also special productions for the Edinburgh Festival Fringe and weekly skits from in-house comedy troupe, the Improverts.
All aspects of the production are carried out by the student membership.
A committee of 13 manages all the theatre's affairs with students pitching in to act, direct, stage manage, fundraise, budget, coordinate sound and lighting, run the box office - and clean the toilets.
"The fact that it is run entirely by students means you feel an incredible sense of ownership about the theatre, which inspires and drives you."
Sense of community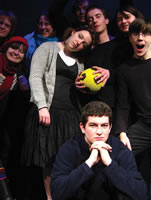 There is a strong sense of community among current and former EUTC members - or 'Bedlamites' - and 30 years on the theatre continues to arouse affection and loyalty.
Christabel Anderson, former Bedlam President and now Head of Participant Services at the Edinburgh Festival Fringe, says:
"There's this huge community, spanning decades, of all the people who have made shows there and taken care of the place.
"These people then go off into the wider world with what they've learnt but always keep an eye on how things are back at the Bedlam.
"It mean the current students have a great network of support".
Success stories
The Bedlam has been an extraordinary proving ground for talent. Notable names who learned their trade at Bedlam include:
Actor and Friends of Bedlam patron Greg Wise (Sense and Sensibility).
Actor Kevin McKidd (Trainspotting, Grey's Anatomy and Rome)
TV scriptwriters Al Smith and Lucy Kirkwood
Comedians Mitch Benn and Miles Jupp
More recently, Edinburgh graduate Ella Hickson's play "Eight", performed in 2008 at the Bedlam, picked up a Fringe First Award before touring to London, New York and Florida.
Video
Find out more about the Bedlam Theatre in this short amateur documentary film.
For use or information about this film, please contact Rebecca White (rbkwhite@gmail.com).
Feature
You can read the full feature "Absolute Bedlam", by Chris Small, in the Winter 2010 edition of Edit - the University's alumni magazine.
Photo credit: Paul Dodds.
Related Links
This article was published on