Basil Spence exhibition at Main Library
An exhibition commemorating Sir Basil Spence will be on show 5-19 March on the ground floor of the Main Library in George Square.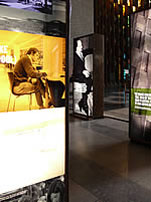 Spence was one of Scotland's most celebrated architects of the 20th Century, and designer of the University Main Library.
Entitled "Sir Basil Spence - Celebration of a Modern Architect 1907-1976", the exhibition began touring Britain last year.
It was created to celebrate the centenary of his birth. The opening coincides with the 40th anniversary of the opening of the Main University Library.
Spence is most famously associated with his radical designs for Coventry Cathedral.
He also built the University of Sussex, the New Zealand Parliament Building and Glasgow airport among others.
The exhibition was created thanks to the Royal Commission on the Ancient and Historic Monuments of Scotland in partnership with the National Galleries of Scotland and The Lighthouse, Scotland's National Centre for Architecture, Design and the City.
Event details
Sir Basil Spence - Celebration of a Modern Architect 1907-1976
Related Links
This article was published on