Fiction meets fact in public lecture
Professor Edward Mendelson is to recreate the lecture on W. H. Auden from Alexander McCall Smith's latest novel.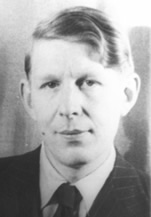 The lecture, "W H Auden and the Case of the Imaginative Conscience" will bring fiction and fact together in a most intriguing way.
In his latest Isabel Dalhousie novel, "The Comfort of Saturdays", McCall Smith writes about a lecture being delivered by the distinguished critic Edward Mendelson.
You can become part of that story when Prof Mendelson gives that very lecture at the University, making fiction a reality.
Introduced by Alexander McCall Smith, the lecture will take place at 6pm on Friday 7 November in the Playfair Library.
Book online
This event is FREE but ticketed. Places are limited so booking is essential.
Please print and bring your confirmation email with you to the event. This is your e-ticket.
This event is now fully booked.
Professor Edward Mendelson

Edward Mendelson is the Lionel Trilling Professor in the Humanities at Columbia University and the literary executor of the Estate of W. H. Auden.
His books include "Early Auden", "Later Auden," and, most recently, "The Things That Matter: What Seven Classic Novels Have to Say about the Stages of Life."
He is the editor of Auden's "Complete Works" and other editions of Auden's work.
He has also published editions of novels by Anthony Trollope, George Meredith, Thomas Hardy, H. G. Wells and Arnold Bennett.
Professor Alexander McCall Smith CBE

Alexander McCall Smith is the author of over sixty books on a wide array of subjects.
He is an alumnus of the University, graduating LLB in 1971.
Professor McCall Smith taught at the University for many years, before retiring to concentrate on his writing career.
He is an Emeritus Professor in the School of Law and was awarded alumnus of the Year in 2006.
Event details
W H Auden and the Case of the Imaginative Conscience
Friday 7 November 2008, 6.00pm
Friday 7 November 2008, 7.15pm
Playfair Library, Old College, South Bridge, Edinburgh, EH8 9YL
Further information
For more information on this event, including any accessibility enquiries, please contact Rachelle Norry.
Special article found - identified by: 1.5563
W H Auden Portrait credit: AudenVanVechten1939 Library of Congress, Prints & Photographs Division, Carl Van Vechten Collection, [LC-USZ62-42537]. Edward Mendelson photo, copyright Shannon Taggart. Alexander McCall photo, copyright Graham Clark.
This article was published on