University shares top architecture prize
The University's new world-leading Informatics Forum has won a top prize for its architecture.
The £42 million building in Crichton Street was presented with the Andrew Doolan Award for the best building in Scotland at a ceremony on Friday night.
The award, run by the Royal Incorporation of Architects in Scotland (RIAS), is the UK's richest architectural prize.
Dedicated to research and sustainability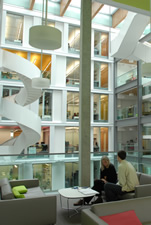 The building, dedicated to research from the School of Informatics, shared the £25,000 award with a refurbished 18th-century stable block in the Castlemilk housing estate in Glasgow.
The five-storey glass building, built around an indoor courtyard with a spiral staircase suspended between the floors, was built by capital firm Bennetts Associates.
It has been designed to reflect the School's ground-breaking work in computer science, artificial intelligence and cognitive science.
Sustainable techniques were also used by architects to decrease the carbon footprint of the building - such as collecting rainwater to use in the flushing of toilets.
Encouraging communication
A spokeswoman for Bennetts Associates said judges were impressed by how the building encouraged communication between experts from different fields in its communal spaces. She said:
"There are dedicated drop-in spaces, with bean bags and comfy chairs, for staff from other campuses and departments to filter in their research.
"This is an unprecedented approach in academic architecture that demonstrates a real effort to create spaces that endorse the cross-fertilisation of ideas."
This article was published on