Roslin stages art show
Humans and animals have a complicated relationship. Where does the animal kingdom end and the human one begin? When we chew on a burger, are we eating a close relation? When we ask dogs to run through assault courses, are we merely toying with them?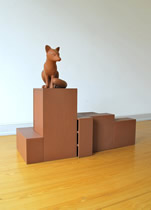 These questions and more are explored in an exhibition, Animal Territories, organised as part of a continuing collaboration between Edinburgh College of Art and the Roslin Institute.
Genomes and obstacle courses
Eleven artists - Edinburgh College of Art staff and students - are showing their work, ranging from sculptures of urban foxes to photos of imaginary cellular life, at the Institute.
MFA student Keith Guy's work explores human's proximity, in genetic terms, to the food that populates our dinner plates. Through photography he raises questions around how humans and cows share 80% of the same genomes.
MFA student Lindsay Boyd has created a mini assault course for dogs to unpick the power relationship between man and canines.
Sculptor Kenny Hunter has created an urban fox sitting on top of some disused furniture.
Eleven artists on show
The other artists exhibiting are Despina Nissiriou, Patricia Martin Sanchez , Kyle Noble, Davy Forsyth, Dennis J. Reinmuller , Kirsty Louise Jones, Andrea Roe, and Susanne Ramsenthaler.
Ethical issues concerning human/animal relationships have long been a concern of artists for whom the natural world has formed both subject matter and material over previous decades. Indeed their relevance has become even more pressing in the present moment when environmental issues are omnipresent in public discourse.
The exhibition is part of a series of exchanges between Edinburgh College of Art and the Roslin Institute. In December 2011 artists and scholars from earth sciences, philosophy and ethics attended Animal Integrity, a seminar at ECA to discuss the nature of human/animal relationships, from which the current exhibition grew.
Animal Territories
The exhibition is open Monday to Friday by appointment. Please contact info@roslin.ed.ac.uk to arrange a visit.
Monday 26 March 2012, 9.00am
Friday 22 June 2012, 5.00pm
The Roslin Institute, Easter Bush, Midlothian, EH25 9RG
Related Links
Edinburgh College of Art - Undergraduate study
Edinburgh College of Art - Postgraduate Study
This article was published on