Teens with allergies wanted for GP study
Teenagers with serious allergies are being invited to take part in research that may change current treatments.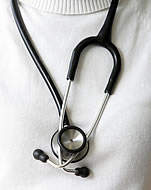 The University is conducting the first study into the adolescent experience of anaphylaxis, a severe allergic condition that may cause death.
Researchers will ask teenagers how they feel about their allergy and what they think might enable them to cope better with its lifestyle implications.
The researchers will also interview parents about how they help teenagers deal with the condition.
Improving care
The study, funded by the Chief Scientist Office, follows a recent House of Lords inquiry which deemed current food labelling standards inadequate.
It is hoped the findings will inform health policy and improve the provision of allergy services across the UK.
Dr Michael Gallagher, Researcher in Community Health Sciences, said:
"Improving care for teenagers with anaphylaxis is important as they are at high risk of having severe reactions.
"As young people start to become more independent, they have to learn how to manage their condition themselves.
"This can be a difficult process, and taking risks can sometimes have tragic consequences."
At the moment, specialist services for this age group are very limited. We hope that by finding out how it feels from a teenager's perspective, we can get a clearer idea of what would help them manage and live with their condition.
Contact details
Anyone interested in the study should contact the General Practice Department.
Special article found - identified by: 1.4102
This article was published on