Vets put acupuncture into practice
Vet students from Edinburgh are off to China to study how traditional acupuncture techniques can be used to help animals.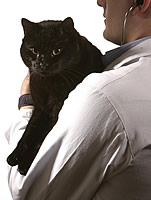 Thirty undergraduates from the Royal (Dick) School of Veterinary Studies fly to Beijing next month to attend the China Agricultural University - China's top-rated vet school.
Popular treatment
They are thought to be the first British-based veterinary students to study acupuncture in China.
Acupuncture has been used in China for at least 2,000 years and nearly every hospital in the country has a traditional medicine department.
It has emerged as a popular treatment for animals in China, and is also growing in popularity in the UK.
Veterinary surgeon Samantha Lindley, based at the University's Hospital for Small Animals, said she and a colleague train about 100 vets a year in acupuncture.
Acupuncture can be used to treat any animals – mostly cats and dogs, but also rabbits, birds, reptiles, horses and farm animals. It is used to treat chronic and acute pain, nausea and conditions such as megacolon, bladder problems and some skin conditions.
Great opportunity
Veterinary medicine student Sarah Helman, 25, from the US, is among the students who will be studying in Beijing.
Ms Helman said she plans on incorporating it into her practice when she qualifies as a vet.
She said: "I really want to learn the basics of acupuncture and how it is applied to animals.
"I think this is a great opportunity to go to China and learn it first hand from the country that specialises in it."
This article was published on