Edinburgh robots reach cup quarter-finals
Edinburgh scientists have taken a robotic football team to the last eight of the robot world cup.
The RoboCup tournament was held in Mexico City and attracted 25 robotic teams from around the world, including Edinferno from Edinburgh.
The tournament was won by the University of Texas's team, Austin Villa.
Human movements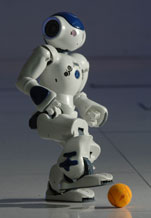 The humanoid robots are designed to mimic the movements of humans.
They have cameras on their forehead and chin so that they can navigate themselves around the pitch.
The robots think independently and use computer vision to work out their own playing positions, and that of their opponents and the ball.
Smarter machines
The purpose of RoboCup is to help scientists develop core principles of robotics.
The aim is to improve the capabilities of robots so they can eventually work in challenging environments such as underwater or in space.
Robots can be entertaining but they also have a serious purpose. By studying how intelligent machines interact on the soccer pitch, we hope to improve the robots of tomorrow and open up new possibilities of how they might improve our lives.
This article was published on