James Tait Black winners revealed
The winners of the 2008 James Tait Black Memorial Prizes were Sebastian Barry and Michael Holroyd.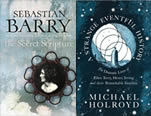 Irish writer Sebastian Barry was winner of the fiction prize for his much praised novel, "The Secret Scripture".
Michael Holroyd was the recipient of the biography prize for his book on 19th century Shakespearean actors, "A Strange Eventful History: The Dramatic Lives of Ellen Terry, Henry Irving and their Remarkable Families".
His wife, Margaret Drabble, won the James Tait Black fiction award in 1967 for her novel "Jerusalem the Golden".
The prizes are awarded annually by the University for the best work of fiction and the best biography published in the previous year.
The winners were announced on Friday, 21 August, 2009, by best-selling crime writer Ian Rankin at the Edinburgh International Book Festival.
Video report
Watch a video report on the James Tait Black Memorial Prizes ceremony, held in August 2009.
Media file support
To view this video you will need Adobe Flash Player installed on your computer.
A strong field
Manager and novel judge of the awards, Professor Colin Nicholson, said:
"It was a very strong field of submissions this year, so that even coming to the short-list was more than usually difficult."
The authors
Sebastian Barry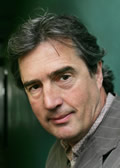 Sebastian Barry was born in Dublin in 1955.
His plays include Boss Grady's Boys (1988), The Steward of Christendom (1995) and The Pride of Parnell Street (2007).
His novels include The Whereabouts of Eneas McNulty (1998), Annie Dunne (2002) and A Long Long Way (2005).
The Secret Scripture won the Costa Book of the Year and was also a Man Booker prize contender.
Michael Holroyd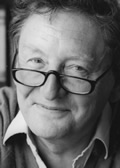 Besides the Lives of Augustus John, Bernard Shaw and Lytton Strachey (which was filmed as Carrington), Michael Holroyd has written two volumes of memoirs, Basil Street Blues and Mosaic.
He is the current president of the Royal Society of Literature and the only non-fiction writer to have been awarded the British Literature Prize.
He lives in London and Somerset with his wife, the novelist Margaret Drabble.
Photo credit: Photograph of Sebastian Barry reproduced courtesy of the Irish Times
Related Links
This article was published on