Lecturer wins theology prize
A University lecturer has been recognised as one of the most promising young theologians in the world.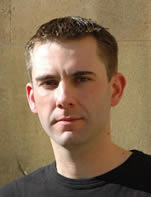 Dr Paul Nimmo has been awarded a 2009 John Templeton Award for Theological Promise for his work on the ethics of the Swiss theologian Karl Barth.
Ceremony in Heidelberg
Dr Nimmo, who was appointed lecturer in theology in June, will receive a prize of $10,000.
He will also receive additional funds of up to $10,000 to pay for public lectures at universities and other educational institutions around the world.
He will receive the prize at an awards ceremony at the University of Heidelberg, Germany, in May.
Established in 2005, the John Templeton Award for Theological Promise is given annually to twelve young scholars in any area of religious studies.
Work on Barth
The awards are given for the best doctoral thesis or best first book related to the topic "God and Spirituality".
Dr Nimmo's award was in recognition of his recent book "Being in Action: The Theological Shape of Barth's Ethical Vision", which arose out of his doctoral research carried out at Edinburgh.
This article was published on