Taking on the 10:10 target
The University is hosting a dedicated 10:10 Week to raise awareness of low-carbon living.
During 8-14 February, staff and students can take part in a range of sustainability-themed events held around the University's campus sites.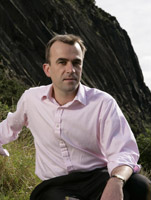 Event highlights
Among the highlights will be a panel discussion on the role of universities in addressing climate change.
It will be chaired by Professor Martin Siegert, the University's Assistant Principal for Energy and Climate Change.
Other events and activities lined up include:
practical winter gardening workshops
bike maintenance sessions
DIY fair
film screenings
city treasure hunt by bike
The full programme
Full details of all events and activities can be found on the Transition Edinburgh University website.
Committing to 10:10
In September 2009 the University and the Students' Association formally signed up to national carbon-cutting initiative 10:10.
Participants in the project have officially signed up to commit to working towards a 10 per cent reduction in either personal or organisational carbon emissions in 2010.
Events throughout 10:10 Week will help support staff and students to contribute to this carbon-reduction target.
Go Green Week
This week-long programme of environmentally friendly activity coincides with the UK-wide initiative, Go Green Week.
This annual campaign is organised by environmental group People and Planet.
It seeks to raise awareness of student action on climate change in schools, colleges and universities.
Transition Edinburgh University
The Week will also be an opportunity to showcase staff-student collaborative project Transition Edinburgh University.
The project launched last year and has the backing of approximately £340,000 from the Scottish Government's Climate Challenge Fund.
It has since employed six members of staff who are working towards promoting a low-carbon campus community.
Event details
10:10 Week
Monday 8 February 2010, 12.00am
Sunday 14 February 2010, 12.00am
Related Links
The University's Energy Office
Transition Edinburgh University
The University's Waste and Recycling
The University's Transport and Parking Office
This article was published on