Chemistry events have formula for success
The University is joining a global celebration of a field of science that meets some of society's biggest challenges.
A calendar of events is being held in Edinburgh to mark the UNESCO International Year of Chemistry in 2011.
Organisers hope the Year of Chemistry (IYC) programme will encourage people to learn more about the science, which impacts on many areas of modern life - from food production to medicine, technology, new materials, and energy.
For more information on the University's events, visit the Year of Chemistry facebook page.
Big screen
The role of women in chemistry is highlighted in a screening of Madame Curie.
The Filmhouse will host the biopic about Marie Curie, the scientist who discovered radium and received two Nobel Prizes.
After the screening, chemistry researchers from the University will help lead a panel discussion about women in science.
This year also marks the 100th anniversary of Curie being awarded her second Nobel, the prize for chemistry.
Festival attractions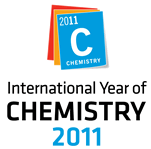 Visitors to the Edinburgh International Science Festival in Spring will have the opportunity to see chemistry in action first-hand.
Research will be showcased at the Edinburgh International Science Festival's International Year of Chemistry event: Atomise, which will be held at the Royal Botanic Garden Edinburgh.
Art meets science
The diversity of the chemical elements will be brought together in a craft project that aims to create a craft periodic table in one day.
Members of the Craft Reactor group, based in Edinburgh, will work with the public to create a unique interpretation for each element, and the results will be put on public display.
During the International Festival and Fringe, an art exhibition featuring images from chemistry will be on display to the public in central Edinburgh.
Our year of celebration offers something for everyone – we hope that people will be inspired and enthused with our activities and will gain insight into how chemistry plays a role in our everyday lives. We hope too that young people will be encouraged to learn more and share in our enthusiasm for this most diverse of sciences.
Strong pedigree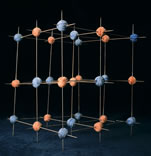 Chemistry has been taught and practised at Edinburgh since 1713. The School's notable historic figures include:
Joseph Black, who first identified CO2;
William Gregory, who developed a method of manufacturing safe painkillers; and
Alexander Crum Brown, who developed a system of graphical representation of compounds.
An example of a salt model made by Professor Crum Brown using balls of wool and knitting needles is displayed in the School's museum.
The University's School of Chemistry has pooled its research with St Andrews to form EaStCHEM, the leading chemistry research group in Scotland.
The team was ranked first in the UK in the latest research assessment exercise.
This article was published on