Events for all at the Science Festival
The University is playing a key role in the Edinburgh International Science Festival, with activities for all ages.
Drop-in events
An extensive programme of events for families includes a host of drop-in activities at the National Museum of Scotland, all of which are free and run by scientists.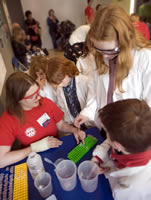 Young scientists can learn maths and chemistry skills to help solve a crime. They can also discover the forces that formed planet Earth, or use engineering to make cardboard pop-up models.
Families are also invited to see how biologists get hands-on with microscopes, discover why physicists are searching for the Higgs boson particle, and learn how medical scientists and vets are working to keep people and animals healthy.
The University's travelling science roadshow team, SCI-FUN, will also be inviting visitors to get involved in engaging experiments.
Shows and workshop
Family events also include free, ticketed performances of the Chemistry Show, featuring exciting experiments, and the Senses Show, which investigates how our brains interact with our senses.
Young scientists are also invited to take part in a drama that brings historical scientists to life, such as microscope pioneer Robert Hooke. The event, Life Through a Lens, invites children to quiz the scientists on various theories before taking part in related experiments.
Family favourite Dr Bunhead also returns, bringing his colourful science show to the George Square Lecture Theatre.
He will investigate the science of bangs and burps, and seek the help of audience volunteers to launch rockets and blow up Barbie.
Evening activities
We look forward to working with festival partners to deliver a memorable experience for visitors of all ages.
In the festival's programme of events for young people and adults, researchers from the University's School of Informatics will contribute to InMotion, a series of activities focusing on human movement and performance.
The University's Inspace gallery at the School of Informatics will host LateLab - a series of evening events and activities taking place throughout the festival.
Participants can enjoy talks, performances, films, and the chance to take part in experiments. Table-top science and creative catering will also be on offer.
Science Festival offerings will complement the seasonal theme of research into faith and magic at the Inspace gallery.
Physics in focus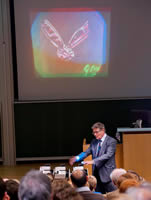 In the talks series, the legacy of pioneering physicist James Clerk Maxwell will be brought into focus with a demonstration of the world's first colour photo, during a discussion of his work.
In addition, the efforts of scientists who study exoplanents - planets outside our own solar system - will form the subject of two documentaries by ECA students.
The screenings will be followed by a Q&A session with astronomers from the University.
Creative thinking
University scientists Professor Polly Arnold and Dr Simon Kirby will both take part in a day-long event that aims to recreate the spirit of the Scottish Enlightenment by bringing together some of Scotland's most creative minds.
Elsewhere, the University's Dr Andy Kerr, Director of the Edinburgh Centre for Carbon Innovation, will join a discussion on the future of policy funding for Scottish science.
Professor Joyce Tait, Chair of the Nuffield Council on Bioethics Working Party on Biofuels, will take part in a panel discussion on the adoption of biofuels.
University psychology and linguistics researcher Christine Cuskley is taking part in a dining event exploring the relationship between taste and other senses.
Participants will experience a five-course tasting menu while savouring smells, textures and tastes.
Pioneering medicine
Medical advances to tackle ectopic pregnancy will come under the spotlight in a talk by Professor Andrew Horne and Colin Duncan from the University's MRC Centre for Reproductive Health.
Professor Stuart Ralston of the School of Molecular and Clinical Medicine will explore the medical and personal aspects of osteoarthritis, with the help of a patient who will relay their experience of the condition.
Dr Colin Semple of the University' s Institute for Genetics and Molecular Medicine will present a talk on the human genome, illustrating how far this new branch of science has come and demonstrating its untapped potential.
Biology breakthroughs
Dr Alistair Elfick of the School of Engineering will present a talk on the emerging area of synthetic biology, which brings together science and design to engineer biological parts and devices.
In a separate event, Dr Elfick will speak ahead of a screening of the 1931 film 'Frankenstein' at the Filmhouse.
Professor Philippa Saunders of the MRC Centre for Reproductive Health will take part in a discussion of the differences between the sexes in terms of our hormones.
We are delighted to be making a significant contribution to one of the best celebrations of science in the world. We are taking part in events ranging from entertaining activities for families through to thought-provoking talks from world-class researchers.
Event details
The Edinburgh International Science Festival runs from 30 March to 15 April at venues across the city.
For more details and to book, please see the festival website or call the booking line.
Image credits: New Media Scotland, Edinburgh International Science Festival.
This article was published on