Edinburgh celebrates Julius Nyerere
The University has marked the legacy of one of its greatest alumni with a day of celebration.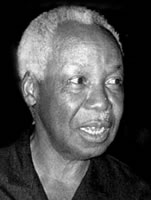 Dignitaries from Africa met with senior University staff at a day of celebration for Julius Nyerere, the first president of Tanzania.
The event marked the tenth anniversary of Nyerere's death, and explored his time at Edinburgh, impact on Tanzania and Africa and the creation of the Julius Nyerere Scholarships.
Julius Nyerere
As President of Tanzania, Nyerere oversaw the unification of Tanganyika and Zanzibar and was later a leader of the struggle against Apartheid in South Africa.
Nyerere received a scholarship in 1949 to attend the University of Edinburgh where he obtained a Masters of Arts degree in Economics and History. He was the first Tanzanian to study at a British University and only the second to gain a University degree outside Africa.
Video report
Watch a video from the University's celebration of Julius Nyerere, with leading Tanzanian politicians and University staff discussing his influence on Tanzania and the country's continuing links with the University.
Unknown element of type: mediaStream found
Speakers at the event
Speakers at the event included: Ali Hassan Mwinyi, who succeeded Nyerere as President of Tanzania; Joseph Butiku, Executive Director of the Mwalimu Nyerere Foundation; Bernard Kamilius Membe MP, Minister for Foreign Affairs & International Cooperation of Tanzania and Mwanaidi Sinare Majaar, High Commissioner for Tanzania to the UK.
Scholarships
The Julius Nyerere Scholarships were set up in 2009 in memory of Julius Nyerere.
The scholarships provide funding for talented Tanzanian students to follow in the first presidents footsteps and study at the University of Edinburgh.
Julius Nyerere's legacies of internationalism and learning lie at the heart of the University of Edinburgh's history, vision and ambition.
An International University
Ranked 20th in the Times Higher Education's international league table, more than a quarter of our students come from outside the UK, representing 137 nations in total, while our academics come from over 80 countries.
The past month alone has seen the launch of our Global Health Academy, which aims to build on our health-focused teaching and research collaborations in Africa and other global regions, and a UNESCO Chair in International Development.
This article was published on