Leading artist makes Scottish debut
Striking images of larger-than-life canaries will feature in a new University exhibition by world-renowned painter Luc Tuymans.
'Birds of a Feather', which opens at the Talbot Rice Gallery on 31 October, is Tuymans' first show in Scotland.
His works will go on display alongside an exhibition showcasing 100 years of life drawing at Edinburgh.
'Impulses Towards Life' includes works by John Bellany, Elizabeth Blackadder and Barbara Hepworth, all taken from the Edinburgh College of Art collection.
Birds of a Feather / Impulses Toward Life
31 October - 19 December
Talbot Rice Gallery, The University of Edinburgh, Old College, South Bridge, Edinburgh, EH8 9YL
Open Tues-Fri 10-5pm, Sat 12-5pm. Free entry.
Birds of a Feather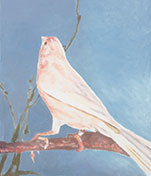 Luc Tuymans is widely considered to be one of the most significant and influential artists working today.
Birds of a Feather has been created in response to work by the great Scottish portrait painter, Sir Henry Raeburn.
The exhibition features large-scale paintings of yellow and pink canaries - newly created for Tuymans' Edinburgh showcase - and silkscreens of anonymous gatherings of people.
The new works will be positioned beside Raeburn's portraits of celebrated Edinburgh academics, a number of which are held in the University's own collection.
William Robertson and John Playfair are among the sitters in the Raeburn portraits, both of whom played a significant role in the Scottish Enlightenment.
The thought-provoking exhibition explores themes of independence, enlightenment and social control, with a nod to aspects of Scotland's history such as the Highland clearances.
Impulses Towards Life
Impulses Towards Life examines the practice of life drawing studies - a central pillar of art education - and the reimagining of the human form during the past 100 years.
The exhibition features a life drawing by Barbara Hepworth which has not been shown publicly for 65 years.
Other works on show include drawings and paintings by William McTaggart, Kirkland Main, Anne Redpath David McLure and John Peploe.
Impulses Towards Life will be accompanied by a programme of events including traditional life drawing classes and contemporary re-interpretations of the Life Drawing Class by artist Steven Anderson.
Related Links
Talbot Rice Gallery
This article was published on