SHOW 2015: Fashion / Costume / Textiles
Student designs at this year's Edinburgh College of Art (ECA) runway show mix the familiar with the fantastic.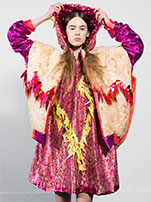 The ECA Sculpture Court will host SHOW 2015 - a series of multimedia catwalk shows - from 23 to 25 April. They will feature cutting-edge designs from students in Fashion, Performance Costume and Textiles.
Family photographs, fairytales and space-age holidays have influenced some of the students' vibrant and varied designs.
Event details
SHOW 2015 is one of the capital's leading style events, giving audiences the chance to catch a glimpse some of Scotland's most talented new designers.
There will be six shows open to the public, and one afternoon schools show:
Thursday 23 April: 6.30pm and 8.30pm
Friday 24 April: 3.00pm (Schools Show) 6.30pm and 8.30pm
Saturday 25 April: 2.00pm and 8.00pm
Tickets cost £12 per person (plus £1.25 boking fee) and are available through Hub Tickets.
Costume Designers for the popular television dramas Games of Thrones and Downton Abbey will deliver a talk following the 2pm show on Saturday 25 April, which guests can attend at no extra cost.
Follow the build-up and post your thoughts on the designs using the Twitter hashtag: ashionshow
Buy tickets for SHOW 2015
Video
See highlights from previous shows in this short clip.
Diverse designs
In the fashion strand of the event, one eye-catching womenswear collection has been influenced by a Victorian fashion movement that focused on luxury and excess. The outfits are heavily layered, with hats moulded into the shape of French desserts or money bags.
Holidays in outer space is the theme of another student's work, which features space-age silhouettes, emblazoned with Hawaiian prints.
Gender stereotypes are also challenged by a collection that juxtaposes 1990s hip-hop fashion with pre-Raphaelite styles.
Elsewhere the shapes, colours and fabrics of other works are influenced by reflections on the students' upbringings and rediscovered family photographs.
Third year students will also showcase work inspired by Beauty by Design - an exhibition in the Scottish National Portrait Gallery curated in collaboration between ECA and National Galleries Scotland.
Dramatic costumes
In the costume strand of the event, outfits created by 12 graduating students are set to delight audiences.
Students have taken inspiration from many fantastical tales such as Roald Dahl's James and the Giant Peach, The Water Babies by Charles Kingsley and two lesser-known fairy tales from the Brothers Grimm - The Girl Without Hands and The Golden Bird.
One student has created a costume that reflects what life is like for people who have Obsessive Compulsive Disorder. The outfit has numerous pockets and is covered in lists.
Other dramatic performances include a futuristic staging of Romeo and Juliet and a contemporary costume for Mary Queen of Scots.
Sponsored work
Two fashion students have been sponsored by Sophie Hallette Lace, the company which regularly works with the top couture houses in Paris and produced the lace for the Duchess of Cambridge's wedding dress..
Fernanda Goodship's fashion collection - inspired by her Spanish heritage - is the first student range to be sponsored by internationally-renowned Scottish outerwear brand Mackintosh.
Platform for success
ECA's fashion department is the only one in Scotland to show on the catwalk at the annual Graduate Fashion Week in London.
Former student Lauren Smith was awarded one of the world¹s top awards for fashion graduates, the GFW George Gold Award for best collection in 2013.
Creative careers
Performance costume graduates are now working in film, TV and stage shows across the world.
Graduate successes include Olivia Hulme who worked on Outlander, a TV series for Sony Pictures.
Sarah McGovern has also worked on HBO's television series Game of Thrones and Beakers House for the BBC.
Other students are busy working for The Royal Opera House, ITV, legendary pictures such as Dracula Untold and designing costumes for Bombay Bicycle Club's arresting music videos
Diversity in fashion
Fashion students are collaborating with All Walks Beyond the Catwalk - which seeks to encourage a greater diversity of sizes in fashion - creating intelligent design solutions for a global market.
Students continue to be employed by leading design brands and exert an influence in all aspects of the industry.
This article was published on