Brain in Science Festival spotlight
The mysteries of the brain will be explored in University events at the Edinburgh International Science Festival.
Researchers from the University will examine how our brains are wired for sound, whether seeing is believing, how our brains cope in a crisis.
Audiences can hear whether learning a new language brings hidden benefits, and learn about cutting edge research into our grey matter, such as efforts to better understand dementia and motor neurone disease.
Scientists will also lift the lid on moves to create a computer model of the brain, and how our brains change over our lifetimes.
Edinburgh International Science Festival
Browse the full list of events and book tickets on the Edinburgh International Science Festival website.
Impact of experience
Scientists will consider the role of the brain in gender, and how our experiences shape our thought processes.
An event in Camera Obscura will explore our brain's perceptions.
Researchers will contribute to a discussion of the emerging field of optogenetics - using light to manipulate neurons.
Brain and behaviour
Inspiring findings into what drives our food choices - including myths about obesity and weight loss - will be shared with audiences.
Also under examination is how where we live can impact on our health and mood.
Festival visitors can take part in a neuroscience-themed ceilidh, featuring reels and dances with a brain-inspired twist.
Self-awareness
A discussion of the soul will consider what we know of the brain and consciousness.
What it means to be human will be called into focus in an examination of human and animal rights.
The concept of trustworthiness among people will be central to a re-enactment of a debate between Enlightenment scholars Thomas Reid and David Hume, portrayed by philosophers from the University.
Exchanging ideas
Communication between people is at the heart of the University's Tam Dalyell Prize Lecture, held at the Festival.
Winner Sarah Keer-Keer will reveal how taking a dramatic, artistic and fun approach to science helps communicate with the public, and how in turn the public inspire scientists.
A conversation featuring Nobel Prize winner Peter Higgs, with physicist and science writer Professor Frank Close, will explore the idea of bringing science to the masses.
Professor Higgs will talk about his own experiences and the boundaries of understanding.
Cultural questions also come under the spotlight at an event about beauty and body image, hosted by Edinburgh College of Art researchers, which links renaissance art collections from the Scottish National Portrait Gallery to contemporary fashion.
Big data
Among Festival events that put technology under the spotlight, scientists will explain what happens behind the scenes in web search engines.
Edinburgh researchers will contribute to a discussion about how best to capture and make use of the huge amount of data generated in the digital age.
Technological developments are also explored in an examination of how plants are inspiring developments in solar energy.
The Edinburgh Centre for Carbon Innovation offers visitors the chance to drop in and see advanced technology in the form of electric and hydrogen-fuelled vehicles. Participants can view its bike-powered cinema, hear debates and talks or see carbon-based artworks.
Science fiction
The Festival also features a discussion of whether we can - or should - use technology to bring extinct species back into existence.
On a similar theme, the novel Jurassic Park will inform a conversation exploring the relationship between science fact and fiction, and whether accuracy is needed in a good read.
Dinosaurs also feature in a talk for adults and in an activity day for families at the Festival.
Other family events include workshops at which visitors can learn about the properties of light or learn to dance like a proton.
Family fun
Visitors can lose themselves in the depths of the cosmos in an interactive experience with music, zooming images and interactive technology.
Participants can explore geometry and build four-dimensional shapes, or create simple computer programs, and then build a computer game.
Elsewhere, visitors can learn how to engineer a portable sand water filter, reveal the secrets of the immune system, or discover how the brain works.
Drop-in activities give families the chance to discover some surprising facts about Earth, drive a particle accelerator, or make some exciting findings under the microscope.
Hands-on activities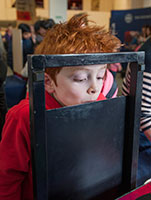 Visitors can find out how maths can help shed light on the darkest regions of the universe, and why it is so important for chemistry and everyday technologies.
Families can explore how we can use energy more wisely, or find out how supercomputers work and how we can use them to solve problems.
Interactive activities include the chance to make a 3D pop-up model to take home, measure blood pressure, play a stem cells game, and explore how cancer treatments are discovered.
More than 50 science activities will be available at the SCI-FUN roadshow.
Bangs, flames and foam all feature in the Chemistry Show, and stunt scientist Dr Bunhead returns to the University with an Easter spectacular.
Focus on health
Health is under the spotlight as researchers examine whether long-term prescriptions to drugs such as statins and antidepressants examines help people live longer, better lives. Another event examines the increase in Chron's disease among young people.
Artwork created during a micro-residency of artists in the University's Centre for Infection, Immunology and Evolution will be showcased in an exhibition at Summerhall during the Festival.
Throughout the festival, the University's Visitors' Centre hosts an exhibition of striking images and objects that celebrate its diversity of research.
This article was published on