Our Changing World
The University will host a series of public lectures that examine global challenges facing society and the role research can play in addressing them.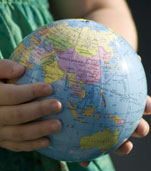 Topics discussed in this year's programme include the obesity pandemic, fertility options and issues in developed regions and real-world applications of robots.
The effect that data science will have on global medical practice will also be addressed as part of the Our Changing World series.
Book tickets
The nine lectures will take place every Tuesday evening at 6.30pm from 29 September in George Square Lecture Theatre.
Visit the Our Changing World website for the lecture programme and to book tickets free of charge.
Final lecture
The series will close with the annual Enlightenment Lecture delivered by Julia Marton-Lefèvre. She is the longest-serving Director General of the International Union for Conservation of Nature (IUCN).
In this lecture, Ms Marton-Lefèvre will compare the profound changes that took place in the 18th century Age of Enlightenment with events taking place today.
She will argue that 2015 offers a number of important global opportunities, which could allow it to be one day viewed as the 21st century's period of Enlightenment of the 21st Century.
Sustainability focus
A number of lectures in the series also focus on sustainability issues. Topics include global financial markets, renewable energy systems and ocean conservation.
One lecture will also look specifically at the UN Sustainable Development Goals, which will be in place by October 2015.
Our Changing World is supported by the University's Department for Social Responsibility and Sustainability
Critical thinking
The series forms the basis of an interdisciplinary course for undergraduate students at Edinburgh.
This optional course aims to engage our students to:
think critically about global challenges across traditional subject boundaries
understand their own subject discipline in an interdisciplinary context
Contact details
For more information on these events, please contact Professor Mayank Dutia.
Mayank
Dutia
Professor of Systems Neurophysiology
Hugh Robson Building
15 George Square
Edinburgh EH8 9XD
Contact details
Notes
These events will be photographed and recorded for promotional and recruitment materials for the University and University approved third parties.
This article was published on