Honorary degree for Jesse Jackson
Civil rights campaigner the Reverend Jesse Jackson has been awarded an honorary degree by the University.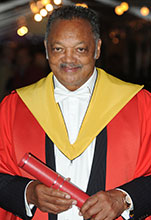 He received the degree of Doctor Honoris Causa, in recognition of his decades-long efforts to improve civil rights in the US.
Festival event
The ceremony took place at the Edinburgh International Book Festival, where the Reverend Jackson had been taking part in an event as part of the Human Rights Now series.
The Book Festival event was held in association with the University's Global Justice Academy.
The Reverend Jackson said he was both honoured and humbled to receive the award.
Video
Illustrious career
In the later part of his career, Jesse Jackson specialised in international diplomacy, negotiating with, amongst others, Fidel Castro, Saddam Hussein, and Slobodan Miloševi.
In the 1960s, he worked with Martin Luther King and in the 1980s twice sought the Democrat nomination to stand for the office of president of the US.
The award was presented by University Principal and Vice-Chancellor, Professor Sir Timothy O'Shea.
The Reverend Jesse Jackson has played a key role in promoting global justice. It is a great privilege to present Jesse Jackson with one of our highest honours, a doctorate of the University.
This article was published on