Lecture explores our quest for novelty
A former President of the European Research Council will question society's pursuit of innovation at this year's Gifford Lecture.
Social scientist Helga Nowotny, Professor Emerita of the Swiss Federal Institute of Technology, will deliver the lecture in the University's Business School Auditorium on Wednesday 13 May.
Gifford Lectures
Professor Helga Nowotny: Beyond Innovation. Temporalities. Re-use. Emergence. Tickets are free of charge.
Wednesday 13 May 2015, 5.30pm
Wednesday 13 May 2015, 7.00pm
Business School Auditorium, 29 Buccleuch Place, Edinburgh, EH8 9JS
Find the Business School on campus maps
Beyond innovation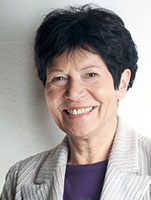 During her lecture, Professor Nowotny will assess how innovation has raised hopes in political and scientific situations where few alternatives are in sight.
She will argue that although it is often a solution to major challenges facing societies - equated with the dynamics of wealth and job creation -that it can be a double-edged sword, creating winners and losers.
Professor Nowotny will go on to suggest that despite the pursuit of novelty being a hallmark of modern societies, it is still unclear whether it can be directed or planned.
Esteemed social scientist
Professor Nowotny is a founding member of the European Research Council - the first pan-European organisation for funding research - and was President from 2010-2013.
She holds a Ph.D. in Sociology from Columbia University, New York, and a doctorate in jurisprudence from the University of Vienna.
She has also held numerous teaching and research positions across Europe, and has worked at the Institute for Advanced Study in Vienna, King's College, Cambridge and the Science Centre for Social Sciences in Berlin.
Professor Nowotny is Chair of the European Research Arena Council Forum in Austria and was awarded the John Desmond Bernal Prize for life time achievements in 2003.
Revered lectureship
The Gifford Lectures have been delivered since 1888 by a succession of distinguished international scholars. They explore the links between nature and religion.
The lecture series was established under the will of Adam Lord Gifford (1820-1887), a Senator of the College of Justice at the University.
Previous speakers include former Archbishop of Canterbury Rowan Williams, the Chairperson of the United Nations Internal Justice Council, Catherine O'Regan and world-renowned psychologist Steven Pinker.
This article was published on