Edinburgh stage for Bollywood star
The University has hosted a visit by Bollywood superstar Shah Rukh Khan.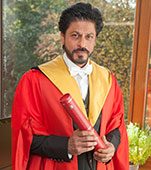 The actor, one of Bollywood's most popular stars gave a public lecture at the University's New College.
Dr Khan spoke after receiving an honorary degree from the University's Chancellor, HRH The Princess Royal.
Videos
Dr Khan speaks about his pride at receiving an honorary degree:
Dr Khan delivers his public lecture, entitled Life Lessons:
(Note: this video can be played on this page, but some iPad/iPhone users may experience problems playing it on YouTube.)
Watch Dr Kahn perfrom his famous lungi dance:
Shah Rukh Khan
Shah Rukh Khan is one of the most influential actors in the world, having appeared in more than 80 Bollywood films.
He has received 14 Filmfare Awards, honouring excellence in the Hindi language film industry, and has more than 15 million Twitter followers.
He was awarded one of India's highest civilian awards, the Padma Shri, in 2005.
His Edinburgh degree of Doctor Honoris Causa was given in recognition of his success as an actor with a global reach and his outstanding record of philanthropy, altruism and humanitarianism.
Edinburgh and India
The University has been linked with India for nearly 250 years. Professor William Robertson, Edinburgh's Principal from 1762 to 1793 and a noted Enlightenment thinker, wrote one of the earliest European texts to focus on India - An Historical Disquisition concerning the Knowledge which the Ancients had of India.
Edinburgh's first Indian student graduated in 1876 and by the 1920s its Indian student population was greater than that of any other UK University.
The University of Edinburgh's India Institute and its India Liaison Office in Mumbai seek to extend the University's relationship with India by encouraging research collaborations and academic exchanges.
Film screening
On Wednesday 14 October the University screened one of Shah Rukh Khan's most popular films - Kuch Kuch Hota Hai (Something Happens, 1998).
The iconic romantic musical was awarded with eight honours at the 1999 Filmfare Awards (the Indian Oscars).
Kuch Kuch Hata Hai was the first Bollywood blockbuster to be shot in Scotland.
The event featured discussions by Bollywood fans, journalists and academics on the global appeal and impact of Shah Rukh Khan.
The event was organised by Edinburgh's Centre for South Asian Studies.
The University of Edinburgh has very strong ties with India and I am delighted that we are able to welcome one of the most outstanding stars of world cinema.
Photography: Douglas Robertson
Related Links
The India Office
Edinburgh Global
This article was published on