Higgs tops Science Festival line-up
Professor Peter Higgs has top billing among University-led events at this year's Edinburgh International Science Festival.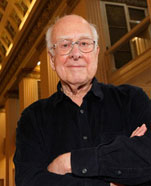 The distinguished scientist, who won a Nobel prize in Physics last year for his prediction of a new particle, will appear in conversation with eminent physicist Professor Frank Close.
The Higgs boson particle will also be featured among the University's free festival events for families at the National Museum of Scotland.
It will form the focus of one of a series of drop-in activities. Family events at the Museum also include workshops and shows.
Edinburgh International Science Festival
Discover the full range of activities and events at this year's Science Festival, which runs from 5-20 April.
Hands-on activities
Besides discovering more about particles and cosmic rays, visitors of all ages to the drop-in sessions can grow crystals, make 3D pop-up models, and use a microscope to learn why fruit flies are useful to scientists.
Those taking part can also try their hand at solving a crime, use maths to stop a virus, and apply supercomputing to simulate a dinosaur in motion.
They can learn how geoscientists measure the world, and find out how medical scientists use pioneering research to keep us healthy.
In free, bookable workshops, visitors can examine the maths of rumours, learn the chemistry of chocolate, and help vets investigate and treat animal diseases.
Spectacular shows
We look forward to playing a significant part in what promises to be another informative and fun celebration of science for all.
This year's festival line-up for families also includes the return of The Chemistry Show with Dr Paul Murray and Dr Robin Andrews, featuring bangs, flames and foam.
The George Square Lecture Theatre will again play host to Festival favourite Dr Bunhead, who brings his lively, loud style to an exploration of chocolate eggs and Easter bunnies.
Families may enjoy a behind-the-scenes tour of the University's Research collection, with the chance to see important, valuable scientific materials.
The University's Visitor Centre is hosting an exhibition entitled The Art Of Science, showcasing images and objects that represent the range of scientific research at the institution.
The University's Centre for Research Collections is hosting meet the expert talks, at the Main Library. Prof Sethu Vijayakumar will talk about the development of a bionic arm, and Dr Gayle Davis will describe how historic case notes can be used for research.
Late night science
Among festival shows for adults, the University's Informatics Forum will be the venue for LateLab, a series of evening events.
These will include a colour-themed cocktail party, a fresh look at slow food, an exploration of laughter, and music and film performances.
Perceiving beauty
A talk hosted by the Principal of Edinburgh College of Art, Prof Chris Breward, will compare and contrast what constitutes beauty in science and art.
In a separate event, scientists and artists will use animation and dance to explore synthetic biology - engineering design with DNA.
Art will also be the format for an examination of how our minds construct the past, in a Talbot Rice Exhibition, False Memory Archive, by artist A R Hopwood.
Brain myths
Continuing with an exploration of the mind, Prof Sergio Della Sala will discuss popular myths about how our brains work.
Dr Mark Harris takes part in a discussion, chaired by Dr Jeremy Kidwell, on how the cosmologies of the world's religions affect human behaviour, and how this impacts on environmental science.
Human culture will also be examined when Prof Andrew Millar talks to scientist Prof Enrico Coen about the themes in his new book, Cells to Civilisations - which also include evolution, development and learning.
Dr Sue Rigby will facilitate a discussion among specialists about artificial intelligence and its implications on our understanding of the world.
Dr Renata Riha will examine the science of why we need to sleep, while Profs Philippa Saunders and Gareth Leng join a panel discourse about what drives our sexual appetites.
How science is reported in the media comes under scrutiny in an event featuring Prof Joyce Tait.
Health issues
Some of Scotland's most common health problems will be discussed at the festival. Dr Nick Mills will look at how research has helped our understanding and treatment of heart disease.
Elsewhere, Dr Gillian Mead will contribute to a talk on recovering from stroke, and experts at the University's Anne Rowling Regenerative Neurology Clinic will discuss multiple sclerosis.
Prof Nick Bateman and Dr James Dear will give a talk on the poisoning dangers of paracetamol.
Prof Sebastian Amyes will present a short history of bacteria, and explain the challenge of preventing bugs from becoming resistant to antibiotics.
Dr Kirsty Boyd will join a discussion on the science of dying and how open discourse can encourage us all to accept dying and achieve a 'good death'.
In two separate events, Audrey Cameron will focus on the use of sign language in science.
An interpreted event for families will introduce new signs for science, and enable the audience to discover exploding pop rockets, how to make elephants' toothpaste, and other experiments. Elsewhere, as part of the talks series, Dr Cameron will explain the development of sign language in astronomy.
Pondering politics
Dr James Mittra joins a panel discussion of healthcare under Scottish independence, while Dr Jan Eichhorn will help to examine decision-making and how this can influence voting behaviour.
A separate debate by student society The Triple Helix will examine the impact of independence on universities.
Courtroom science
Forensic science and medicine come under examination in a talk by Dr Tim Squires, who will explore some of the techniques used in the fields.
Elsewhere, pathologist Prof Antony Busuttil shares his experience of being an expert witness in high-profile court cases.
Technology focus
On a grander scale, mind-blowing physics is on the agenda when Dr Catherine Heymans will explain how she uses the world's top telescopes to probe the Universe for dark matter.
Visitors to the FloWave testing facility for marine devices will see the 25-metre circular pool re-create the ocean's waves and currents.
Mobile phones and the materials used to make them will be explored in a talk by Dr Rachel Walcott and Prof Simon Harley, while the effects of mobile technology on children will be examined by Dr Mark Sprevak.
Technology is also in the spotlight at the Tam Dalyell Prize Lecture. Prof Harald Haas will tell the story of his li-fi technology, which enables high-speed internet connections using light bulbs.
Related Links
This article was published on