Staff receive New Year's Honours
A number of University staff and associates have been recognised in the New Year's Honours List.
Edinburgh representatives honoured this year are from a broad range of disciplines.
Professor knighted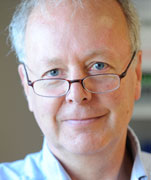 Professor Adrian Bird, Buchanan Professor of Genetics, has received a knighthood for services to science.
His research focuses on understanding DNA methylation and CpG islands, and their role in diseases such as Rett syndrome.
Professor Bird was awarded the Gabor Medal in 1999 and made a CBE in 2005. He received the the Gairdner Foundation International Award in 2011 for his pioneering discoveries on DNA methylation and its role in gene expression.
Eminent chemist
Professor Lesley Yellowlees, who is Vice-Principal and Head of the College of Science and Engineering, was awarded a CBE for services to chemistry.
Professor Yellowlees became the first female President of the Royal Society of Chemistry in 2012. Her research interests are inorganic electrochemistry, spectroelectrochemistry, electron transfer reactions and EPR spectroscopy.
Professor Yellowlees was awarded an MBE in 2005 for services to science.
Distinguished scientist
Professor Nigel Brown was awarded an OBE for services to science.
Professor Brown is an Emeritus Professor of Molecular Microbiology at Edinburgh, where he was Head of the College of Science and Engineering 2008-2011.
He is also the President of the Society for General Microbiology and has been Chair for the Deans of Science and Engineering in Scotland since 2010.
Leading surgeon
Professor O James Garden, Regius Chair of Clinical Surgery at Edinburgh, was awarded a CBE for services to surgery.
Professor Garden's main clinical interests are academic surgical training and the management of hepatobiliary and pancreatic disease.
Professor Garden, who is Surgeon to the Queen in Scotland, is Programme founder for the Edinburgh Surgical Sciences Qualification, which has been recognised with a Queen's Anniversary Prize for Higher and Further Education.
The award - widely regarded as the highest national honour in UK education - was made for a set of five online courses, aimed at aspiring surgeons.
Literary pioneer
Alastair Fowler, Emeritus Professor of Rhetoric and English Literature at Edinburgh, was awarded a CBE for services to literature and education.
A literary critic and editor, Professor Fowler is an authority on Edmund Spenser, Renaissance literature, genre theory, and numerology.
Professor Fowler's edition of John Milton's Paradise Lost is widely cited by Milton scholars. His book Kinds of Literature is a pioneering study in the field of genre scholarship.
Convener honoured
Margaret Tait, a former Convener of the Business Committee of the General Council of the University, was awarded an MBE for services to education.
Mrs Tait, who is an Edinburgh maths graduate, is a member of the University Court.
Additional honour
Visiting Professor Harvey McGregor QC was awarded a CBE for services to the Law and education.
This article was published on