Staff receive Birthday Honours
Two members of University staff have been recognised in the Queen's Birthday Honours List.
Eminent historian Tom Devine has received a knighthood and Professor Aziz Sheikh was awarded an OBE.
Celebrating a distinguished career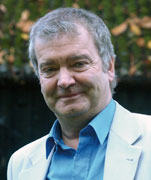 Professor Devine's knighthood for services to scholarship coincides with Professor Devine's retirement in July.
It is recognition of 45 years of academic service to the Universities of Edinburgh, Aberdeen and Strathclyde.
To mark his departure from the University, former Prime Minister Gordon Brown joined Professor Devine at an event in McEwan Hall on Monday, 16 June.
A video of the event - Scotland's Past and Scotland's Present - will soon be available online.
This recognition would not have been possible without the collective support over my career of numerous colleagues, students and, above all, of my wife Catherine, our children and grandchildren. I thank them all most warmly.
Unique honour
Professor Devine is the only living scholar in the humanities and social sciences in the UK to have been elected to the three learned academies in the British Isles: Royal Society of Edinburgh, Royal Irish Academy and the British Academy (FRSE, HonMRIA, FBA).
He is currently the Personal Senior Research Chair of History at the University of Edinburgh and Director of the University's Scottish Centre for Diaspora Studies.
Distinguished doctor
Professor Aziz Sheikh was awarded an OBE for services to medicine.
Professor Sheikh is Director of the Asthma UK Centre for Applied Research and co-Director of the Centre for Population Health Sciences.
This is truly well-deserved recognition for the very significant contribution that Aziz makes across a wide range of areas of medicine, particularly in primary care, asthma and allergy research.
Visiting professor
Professor Sheikh is currently a visiting professor at Harvard Medical School and is Harkness Fellow in Health Care Policy and Practice at Brigham Women's Hospital in the United States.
He is a Fellow of the Royal College of Physicians and a Fellow of the Royal College of General Practitioners.
This article was published on