Supporting women in science
A culture change is needed to retain talented female scientists, this year's International Women's Day lecture will say.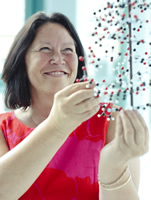 Professor Lesley Yellowlees, University Vice Principal and President of the Royal Society of Chemistry, will tell her audience that many women qualify as scientists only to leave their profession, while many more men remain in the field.
The event will be held at 6pm on Friday 8 March at The Michael Swann Lecture Theatre, King's Buildings. Doors open at 5.30pm.
Female brain drain
More than 70 per cent of women who graduate in science and technology subjects will leave the sector over the course of their careers, with very few going on to become experts, Professor Yellowlees will say.
Women need more support in terms of employment flexibility, training, childcare and mentoring to prevent this brain drain from continuing, she will tell the audience.
Book online
This event is free but ticketed. Please print and bring your confirmation email with you to the event. This is your e-ticket.
Lesley Yellowlees
Professor Yellowlees is Head of the College of Science and Engineering, in addition to her Vice Principal role.
The Professor is an active supporter and campaigner for women in science and technology.
This year, Professor Yellowlees is a nominee of Suffrage Science, an initiative that seeks to recognise the contribution of leading women scientists.
Nominees receive jewellery inspired by pieces given to ambassadors of the suffragette movement.
In two years' time, today's recipients will pass on the heirloom jewellery to another group of female scientists and communicators.
International Women's Day lectures
Our annual lecture series celebrates International Women's Day with inspiring women speakers of international reputation.
You can watch videos of the lectures on the University's YouTube channel.
Event details
International Women's Day Lecture: Lesley Yellowlees
This event may be photographed or recorded for promotional or recruitment materials for the University and University-approved third parties.
Tuesday 8 March 2011, 6.00pm
Tuesday 8 March 2011, 7.15pm
Michael Swann Building, King's Buildings , EH9 3JR
Contact details
For more information on this event, including any access enquiries, please contact our Equality and Diversity team.
Photo credit: Maverick Photo Agency.
Related Links
Equality and Diversity
International Women's Day events
This article was published on