The University at the festivals
As the spotlight falls on Edinburgh this August, we are again at the heart of one of the world's biggest cultural gatherings.
George Square and New College buildings are transformed into vibrant venues, bars and eateries - placing the University firmly at the centre of the festival.
The University is an official partner of the Edinburgh International Book Festival and the Edinburgh International Festival (EIF).
Academics work closely with organisers of both festivals to curate events, deliver talks, organise workshops and debates, as well as providing research to projects people may not otherwise be aware of.
Academics are also involved in a number of events in the Festival Fringe, Just Festival and Festival of Politics.
New festival website
Full information about the University's ties to the festivals and links to specific University-led events.
A special relationship
The University has sponsored a number of Edinburgh International Book Festival events, including a discussion with acclaimed Canadian writer Margaret Atwood and two events exploring memory, chaired by Professor Ian Deary.
The James Tait Black Prizes for fiction and non-fiction will be also awarded. As Britain's oldest literary prize, this event has been the cornerstone of the University's relationship with the Book Festival for many years.
Academics in the School of Social and Political Science have worked with the ESRC to deliver a debate on independence, which will be chaired by Edinburgh alumna and broadcaster Kirsty Wark.
Book Festival Director Nick Barley discusses the special relationship between the University and the festival.
Image found - identified by: 1.119429 with ref Id 1.119429
Festival collaborations
As the Edinburgh International Festival's new official University Partner, we will take part in a range of attractions - from classical harpsichords to cutting-edge computer technology - as part of this three-week celebration of the arts.
The interaction between artists and technologies is a theme that runs through many of the events involving the University.
This year's programme reflects the cultural and intellectual synergies between our two organisations. The Edinburgh International Festival looks forward to developing the collaboration further in future years.
Exciting new space
Moray House campus is to provide a new venue space this year. Paterson's Land will host dance performances, workshops and music recitals as part of the Fringe.
The University has partnered with the Royal Conservatoire of Scotland to create a number of new shows, as part of the Oxygen series, which will be performed in this new space.
More events than ever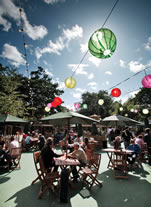 There are many more collaborations taking place in a number of the festivals this year.
Edinburgh College of Art has is closely involved with Art Festival, which launches on 1 August. There will be installations in the College's main sculpture court as well a Degree Show featuring ECA's postgraduate students.
Just Festival - previously known as the Festival of Spirituality and Peace - has worked with the Alwaleed Centre, School of Divinity and Edinburgh Chaplaincy to deliver a variety of events which aim to celebrate and demystify faiths that are practised in the world today.
Fringe benefits
A number of Edinburgh Festival Fringe shows have close links with the University. Dr Alistair Richmond from the University's School of Philosophy, Psychology and Language Sciences will make his debut in Banshee's Labyrinth to introduce the philosophy of time travel.
Researchers in Law have worked with a production company to provide legal insight into a play about assisted dying called Killing Roger.
Health and Social Science researchers have been part of Jack and Jill and the Red Post Box - an acclaimed play which explores society's attitudes towards people diagnosed with dementia.
This article was published on