Honorary degree bolsters Russian ties
University Principal, Professor Sir Timothy O'Shea, has been recognised for his work in educational technology.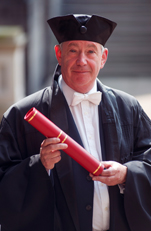 An Honorary Degree of Doctor honoris causa from Saint Petersburg University of Humanities and Social Sciences was bestowed upon Professor O'Shea, whose research is focussed on innovative uses of computers to support student learning.
The award strengthens the University of Edinburgh's many links with Russia, established over hundreds of years.
These include partnerships with a number of universities and institutes, including Moscow State University, St Petersburg State University and Perm State University.
Leader in Russian studies
With around 100 students currently enrolled at the University, Edinburgh is one of the top 10 destinations for Russian students choosing to study in the UK.
The University's Princess Dashkova Russian Centre, supported by the Russkiy Mir Foundation, is the best-equipped centre for the study of Russia in the UK. It is named after Princess Ekaterina Dashkova, one of the leading figures of the Russian enlightenment, who lived in Edinburgh from 1776 to 1782 while her son attended the University.
Russian students who choose Edinburgh are following in the footsteps of figures such as Igor Tamm, winner of the Nobel Prize for Physics in 1958, who studied in Edinburgh before the First World War.
The University's association with Russia dates back to the start of the 18th Century when Dr Robert Erskine, an Edinburgh alumnus, was appointed Chief Physician to Peter the Great and President of the Medical Chancery.
Related Links
Russian department
Princess Dashkova Russian Centre
This article was published on