Royal award for e-learning innovation
Edinburgh's excellence in distance learning has been recognised with a Queen's Anniversary Prize for Higher and Further Education.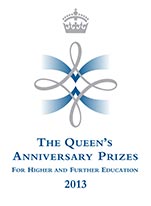 The award - widely regarded as the highest national honour in UK education - has been given for a set of five online courses, aimed at aspiring surgeons.
The University has developed this innovative method of teaching in collaboration with the Royal College of Surgeons of Edinburgh (RCSEd). It allows trainee surgeons to continue practicing, while utilising online platforms to learn at a time and place convenient for them.
By using virtual patient case-studies for discussion, students learn how to make better clinical decisions. They can discuss patient scenarios with fellow e-learners, while under the guidance of a supervisor based in Edinburgh.
Such learning methods have proved particularly effective in developing countries, where doctors are often unable to travel abroad to add to their skills and knowledge.
Upon completion, the trainees will be well-positioned to embark upon training in practical surgical procedures.
We are delighted and honoured to receive such recognition for our pioneering approach to surgical training. These courses help bridge the crucial years between graduating from medical school and reaching the level of consultant surgeon. Our growing suite of surgical distance-learning programmes are helping to re-shape the landscape of postgraduate surgical education and, in so doing, will ultimately improve patient care as today's trainees become tomorrow's surgeons.
Meeting needs
The first of the five courses - an MSc in Surgical Sciences - was established in 2007.
This part-time, online Masters programme is designed to support trainees in the early years of surgical training and is relevant to their professional development and examination.
The MSc programme is the fastest recruiting postgraduate course at the University and has attracted more than 600 trainees in 41 countries.
Since its launch, the course format has received strong student approval and has led to significantly improved success rates for MSc students in their professional examinations.
Building on success
Since 2007, four more Masters programmes have been developed:
ChM in General Surgery
ChM in Trauma & Orthopaedics
ChM in Urology
ChM in Vascular & Endovascular Surgery
All of these courses support the advanced trainee and consolidate learning towards the respective intercollegiate examinations.
The programmes have attracted extensive international collaborations, with partnerships in Africa, Europe and Australasia.
This article was published on