Milly does design to a tee
A design graduate's artwork is to be donned by some of the UK's best-known celebrities as part of a national charity campaign.
The design by Milly Wood - which was created during her final year at University - has been chosen as the motif for this year's Jeans for Genes Day T-shirt.
Outstanding quality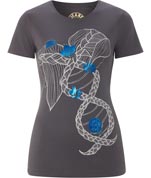 Illustration students at Edinburgh College of Art were asked to submit ideas and designs to front the charity's 2013 campaign.
The judging panel included TV presenter Colleen Rooney and founder of the Scottish Fashion Awards, Tessa Hartmann. The panel described the quality of all ECA students' entries as outstanding.
Milly's intricate design - inspired by the DNA of identical twins - won the judges over and was chosen to emblazon the front of this year's T-shirt.
Jeans for Genes Day
Jeans for Genes Day raises money for Genetic Disorders UK - a charity which supports children with genetic conditions and their families.
Each year, people throughout the country are asked to swap their regular work clothes for jeans and T-shirts and make a donation.
The limited edition Jeans for Genes T-shirt also goes on sale to support the campaign, with all profits going to the charity.
I am delighted to have won the Jeans for Genes Day competition. To see such famous faces wearing my illustration is so exciting and I am very proud to be part of such a worth-while cause.
T-shirts go on sale this week and can be purchased online or at the University's Visitor Centre in Bristo Square.
Stars supporting the charity and wearing Milly's design include singer Melanie C, Coronation Street's Michelle Keegan, reality television actress Louise Thompson and Scottish pop sensation Tallia Storm.
Jeans for Genes Day
T-shirts cost £20 and are available in sizes 8-20.
Related Links
Visitor Centre
Illustration - School of Design
Edinburgh College of Art
This article was published on