Lord Williams delivers Gifford Lectures
Please join us to hear one of the most distinguished religious leaders speak in Edinburgh.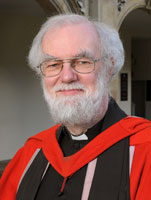 Former Archbishop of Canterbury, Lord Rowan Williams of Oystermouth, will deliver six lectures as part of the University of Edinburgh Gifford Lectures this November.
His Gifford Lectures will explore the links between nature, religion and the language habits our society has developed.
Lord Williams will speak at 5.30pm on 4, 5, 7, 11, 12, and 14 November 2013 in the University's Assembly Hall at New College on Mound Place.
Outstanding thinker
Lord Williams is acknowledged internationally as an outstanding religious leader and thinker.
He spent ten years as the Archbishop of Canterbury - the senior bishop and principal leader of the Church of England - only stepping down earlier this year to be a peer in the House of Lords.
Book online
Tickets are free, but booking is essential. You can book online for each lecture.
Watch online
Each lecture will be streamed live on this page. The webcast will begin at around 5.25pm.
Special article found - identified by: 1.125992
.
The lectures will also be recorded and be made available to watch online as part of our Gifford Lectures podcast series.
The Gifford Lectures - audio and video
Event details
Gifford Lectures by Lord Williams of Oystermouth
Monday 4 November 2013, 5.30pm
Thursday 14 November 2013, 5.30pm
Assembly Hall, New College, 1 Mound Place. Edinburgh, EH1 2LU
Find New College on campus maps
Impressive surroundings
Those who secure a place will hear Lord Williams speak in the impressive surroundings of the Assembly Hall, situated on top of the Mound in Edinburgh city centre.
The Gifford Lectures have been growing in popularity over the years and 2013 has had one of the best responses yet. We are delighted Lord Williams is to deliver these lectures and would encourage anyone who would like to hear him speak to reserve tickets soon.
Esteemed speakers
The Gifford Lectures have been delivered annually since 1888 by a succession of distinguished international scholars. They explore the links between nature and religion.
Catherine O'Regan, Chairperson of the United Nations Internal Justice Council, is also scheduled to speak next year as part of the lecture series.
Tickets are not yet available for future lectures, but you can check up-to date information on the Gifford Lectures website.
Related Links
Gifford Lectures - Overview
Lord Williams Lecture Series
History of the Gifford Lectures
Previous Gifford Lecture videos and audio
This article was published on