Gifford lecture sells out
One of the world's most renowned psychologists is to speak as part of the University's Gifford Lecture Series.
Professor Steven Pinker will address a sold-out audience at the University's McEwan Hall. His lecture will cover the topic of violence in society.
The lecture will be streamed live online for those who are unable to attend.
Event details
Professor Pinker will speak at 5.30pm on 29 May 2013.
Steven Pinker's lecture - "The Better Angels of Our Nature: A History of Violence and Humanity" - will also be available to view online after the event.
The Gifford Lectures - video and audio
A history of violence
The ideas explored in his lecture draw from Professor Pinker's most recent book The Better Angels of our Nature: Why Violence has Declined.
He discusses the notion that contrary to popular belief that we live in exceptionally violent times, rates of violence have been in decline over the course of history.
Professor Pinker's book will be on sale after the lecture in McEwan Hall.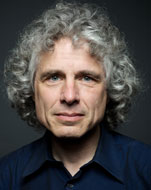 Renowned speaker
Steven Pinker is an award-winning experimental psychologist who works at Harvard University.
He has been named Humanist of the Year by the American Humanist Society and has been listed among Prospect magazine's top 100 public intellectuals in the world and Time magazine's 100 most influential people in the world today.
The Gifford Lectures have been growing in popularity over the years and 2013 has had one of the best responses yet. We are thrilled Professor Pinker is speaking at the University and to have the event streamed live means even more people can access what should be a fantastic lecture.
Esteemed lectureship
The Gifford Lectures have been delivered since 1888 by a succession of distinguished international scholars. They explore the links between nature and religion.
Also scheduled to speak this year as part of the lecture series is former Archbishop of Canterbury Rowan Williams. The Chairperson of the United Nations Internal Justice Council, Catherine O'Regan will also give a lecture in May 2014.
Tickets are not yet available for future lectures, but you can check up-to date information on the Gifford Lectures website.
A video of Professor Pinker's lecture will also be available after the event.
Related Links
Future Gifford Lecture details
History of the Gifford Lectures
Gifford Lectures - video and audio
This article was published on