Gifford Lectures go out live
A leading French intellectual's lecture series will be broadcast live owing to popular demand.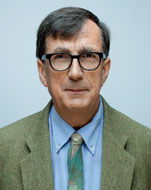 The internationally renowned sociologist Bruno Latour will address sell-out audiences as part of the six-part University of Edinburgh Gifford Lecture Series from Monday, 18 February.
World-renowned sociologist
Professor Latour is a sociologist of science, an anthropologist and an influential theorist in the field of science and technology studies.
These will be his only UK appearances this year.
Live video
Professor Latour will speak at 5.30pm on: 18, 19, 21, 25, 26 and 28 February.
Each lecture will be streamed live on this page.
Tickets and cancellations
These lectures are sold out and our waiting list for cancellations is fully subscribed.
Please do let us know if you unable to attend as we have a very large waiting list. Contact Lynn Hyams.
The events are being filmed and will be available online and as part of our Gifford Lectures podcast.
The Gifford Lectures podcast
Intimate setting
Professor Latour will speak on the ties between nature and religion in the intimate St Cecilia's Hall, the capital's oldest purpose-built concert hall.
It is an honour to join the many speakers who have spoken at the Gifford Lectures on the link between nature and religion.
Esteemed speakers
The Gifford Lectures have been delivered annually since 1888 by a succession of distinguished international scholars. They explore the links between nature and religion.
Also scheduled to speak this year as part of the lecture series is: former Archbishop of Canterbury Rowan Williams, acclaimed theorist Professor Steven Pinker and the Chairperson of the United Nations Internal Justice Council, Catherine O'Regan.
Tickets are not yet available for future lectures, but you can check up-to date information on the Gifford Lectures website.
The Gifford Lectures have been growing in popularity over the years and 2013 has had one of the best responses yet. As well as allowing people the chance to hear Professor Latour speak, audiences from all over the globe will have access to one of Edinburgh's most elegant and historic venues
Related Links
Future Gifford Lecture details
Bruno Latour Gifford Lecture Series
History of the Gifford Lectures
The Gifford Lectures - video and audio
This article was published on