Fulbright appoints political professor
An academic with an interest in gender and politics has been appointed as the next Fulbright-Scotland Visiting Professor at Edinburgh.
Professor Karen Beckwith from Case Western Reserve University in Ohio will spend six months based in the Institute for Advanced Studies in the Humanities, working closely with academics in Social and Political Science.
Her visit begins in January 2014.
Transatlantic collaboration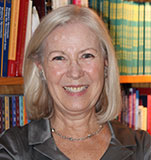 Professor Beckwith plans to use her time in Edinburgh to lecture and undertake research at the for her project entitled, What's New? Institutional Transformation and Women's Political Representation.
Professor Beckwith will collaborate with Edinburgh Politics Professor Fiona Mackay. She plans to produce a book that identifies how the political process can work to create policies that are more inclusive and favourable to women.
I have fond memories of a very brief visit to Edinburgh, in the previous century(!). I am very much looking forward to returning to Edinburgh for an extended stay as a Fulbright Scholar, to learning about this historic city and to working with colleagues at its university, and to exploring as much of Scotland as possible (intellectually as well as touristically).
Prestigious programme
Professor Beckwith is among 300,000 scholars worldwide who have participated in the Fulbright program.
The visit is organised by the US-UK Fulbright Commission, which is part of the worldwide Fulbright Program - one of the world's most prestigious academic exchange programmes.
Professor Beckwith is continuing The Fulbright Commission's links with the University, which began in 2008. The initiative is led by the College of Humanities and Social Science.
Esteemed alumni
The Fulbright Program was set up by US Senator J. William Fulbright after the Second World War to foster mutual cultural understanding through educational exchange between the United Kingdom and United States.
Forty- four Nobel Prizes have been awarded to individuals who received Fulbright Scholarships.
Notable alumni of the scheme include economist Milton Friedman, poet Sylvia Plath and Edinburgh- based mathematician Sir Michael Atiyah.
This article was published on