Higgs tops science festival bill
Professor Peter Higgs has top billing among University events at this year's Edinburgh International Science Festival.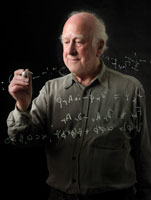 The Emeritus Professor will accept the Edinburgh Medal at this year's festival, following the recent discovery of a fundamental particle that bears his name.
The annual medal is given at the Festival to scientists who have made a significant contribution to the understanding and wellbeing of humanity.
This year it is being jointly awarded to the director-general of the European Organization for Nuclear Research, Rolf-Dieter Heuer.
Dr Heuer's team at CERN announced the discovery of the Higgs boson in July 2012.
Edinburgh International Science Festival
Find out more about the events that are run and hosted by the University.
University events at the Edinburgh International Science Festival
Tam Dalyell prize
For the first time as part of the Edinburgh International Science Festival, a prize is being made in the name of science communicator and politician Tam Dalyell.
The annual Tam Dalyell Prize for Excellence in Engaging the Public with Science Lecture and Award will be given to Professor Clare Blackburn and Dr Amy Hardie.
The prize recognises the researchers' work in engaging with the public on stem cell science through the use of films.
Lunchtime learning
Medical developments feature elsewhere at the festival, including contributions to a series of lunchtime events.
The Healthy Lunches series begins with a talk by Dr Liz Patton, who will explain how zebrafish are criticial to research into skin cancer.
Dr Lesley Stark will discuss recent evidence that aspirin may offer protection against some forms of cancer.
The value of chest x-rays will come under the spotlight in an event featuring Dr Saeed Mirsadraee and Dr Nik Hirani, and Dr Richard Chin will focus on key questions driving research into childhood epilepsy.
Medical developments
The future of medicine is also called into focus with events including a talk by Dr Gill Haddow and Paul de Souza about perspectives on human-animal hybrids.
Dr Alistair Elfick and Professor Joyce Tait will take part in a discussion about synthetic life, while Professor David Porteous contributes to a debate about the future of personalised medicine.
The University will provide social hubs for festival-goers, including the Teviot Row Loft Bar from 5pm each day, and evening events at LateLab in Inspace, the School of Informatics' public gallery.
Fun for families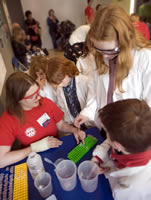 Free Family events hosted by the University, taking place in partnership with the National Museum of Scotland, include hands-on drop-in activities, workshops and shows.
Visitors can learn about the Higgs boson from particle physicists, and discover how the Earth formed by talking to geoscientists.
Mathematicians will explain the patterns and symmetries in everyday life, and help participants create their own symmetries to take home.
Visitors can make their own biological discoveries under the microscope, and find out about the latest developments in renewable energy.
Discovery workshops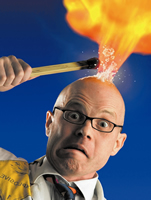 Medical and veterinary experts will demonstrate hands-on activities to help audiences understand how science keeps people and animals healthy.
Visitors will also be able to create 3D cardboard pop-ups with help from engineers, and scientists at the SCI-FUN roadshow will engage people with more than 50 different interactive activities.
In free workshops hosted by University scientists, visitors will use maths to create amazing patterns with tiles, and put their skills to the test against intelligent robots.
The Chemistry Show will be packed with colour, flames and foam to help explain how to make cars greener, and why farmers might taste the soil in their fields.
Dr Bunhead will return to the University in his trademark style, entertaining audiences with plenty of flashes and bangs, while engaging them with real science about messy, smelly stuff.
Secrets of the brain
Events elsewhere at the festival will seek to give insight into our brains, beginning with a discussion led by Rustam al-Shahi Salman about how much MRI scans reveal, and how neurologists decide when treatment is needed.
The links between taste and our other senses will be explored in a sensory meal event involving synaesthesia expert Dr Julia Simner.
Our memories, and how our brains can distort our recollection of events, will be discussed by a panel including two University psychologists, Dr Caroline Watt and Professor Sergio Della Sala.
The search for the self will be explored by Dr Letitia Slabu, Dr Alison Lenten and Dr Alex Wood.
Dizzy heights
Challenging conditions for our bodies come under the spotlight in an event focusing on our reactions to high altitude.
How climbers, athletes and people who live in high places adapt to such conditions will be explored by Professor Mark Evans, Dominika Dykiert and Dr Kenneth Bailie, with input from mountaineer Geordie Stewart.
Readings from authors of a series of short stories about the human side of bio-medicine will be accompanied by talks from Dr Jane Calvert and Professor Bruce Whitelaw.
Environmental challenges
Events exploring the impact of science on the wider world include a look at the role of faith in the future of our environment.
This will be under discussion at an event involving Professor Michael Northcott, led by broadcaster Lesley Riddoch.
Ms Riddoch will also feature in a panel discussion on the challenges of developing renewable energy from Scotland's seas, and the implications for society and culture, featuring Professor David Ingram.
The plight of endangered animals and how stem cell technology may offer a safeguard against extinction will be the subject of an event featuring Dr Mike McGrew from The Roslin Institute.
Astrophysicist Professor Jocelyn Bell Burnell will discuss the outlook for astronomy with Professor Andrew Lawrence, touching upon future scientific and political challenges and the opportunities for astronomers to learn more about our universe.
For more information on science festival events, click on the link below or call 0844 557 2686 to book.
Peter Higgs photo courtesy CERN/Claudia Marcelloni.
This article was published on