Dressed for success
Tickets are now on sale for the Edinburgh College of Art Fashion Show, one of Scotland's biggest style events.
The Show, one of the capital's cultural highlights and the place to see tomorrow's fashion stars, is moving to a new home to celebrate the work of graduating students.
The University's McEwan Hall at Bristo Square will host the event for the first time from 25-26 April.
Last year's highlights
Watch the highlights from last year's fashion show.
Parisian lace to Peruvian tribes
Collections in this year's show will feature a diverse range of designs, the inspiration for which includes lost Peruvian tribes, hip-hop jockeys, 1990s kids TV shows, and the sleek shapes of luxury yachts.
Two students are sponsored by Sophie Hallette Lace, which produced the lace for the Duchess of Cambridge's wedding dress and regularly works with the top couture houses in Paris.
And for the first time at the fashion show, a student will create a collection solely featuring headwear.
Dramatic costumes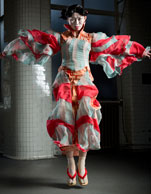 Performance costume students have created outfits inspired by Japanese fairy tales and legend, African Maasai warriors, and Mexican magical-realism.
One student has designed costumes for characters in a film adaptation of her mother's book and another has created a macabre dress made from eyeballs.
Six spectacular shows
Six multi-media shows will be held over two days in April. Each dramatic performance will feature outfits from students studying fashion, performance costume, and textiles.
We are looking forward to showcasing the exceptional range of work designed and produced by this year's graduating cohort in the magnificent McEwan Hall. After last year's successes in Edinburgh and at Graduate Fashion Week in London, the staff and students have high expectations this will be the best show ever.
This year the show will have its own Twitter hashtag: ashow.
More information on the students and their collections will be added to the official website in coming weeks.
Platform for success
The fashion department is the only one in Scotland to show on the catwalk at the annual Graduate Fashion Week in London.
Former students have been employed by Prada, Alexander McQueen, Vivienne Westwood, Gucci, Diesel, Sonia Rykiel Paris and many others. Performance costume graduates now work in film, TV and theatre across the world, including designing outfits for HBO's Game of Thrones.
Graduates include Holly Fulton, Young Designer of the Year Awards at the Scottish Fashion Awards, and Stewart Parvin, designer of Zara Phillips' wedding dress and official couturier to the Queen.
Event details
Edinburgh College of Art Fashion Show
Tickets are on sale now costing £15 each (plus £1.50p booking fee).
Thursday 25 April 2013, 12.00am
Friday 26 April 2013, 12.00am
McEwan Hall, Teviot Place, Edinburgh, EH8 9AG
Find McEwan Hall on campus maps
This event may be photographed or recorded for promotional or recruitment materials for the University and University-approved parties.
Related Links
Edinburgh College of Art Fashion Show 2013
Undergraduate study - Fashion
Undergraduate study - Performance Costume
Undergraduate study - Textiles
Edinburgh College of Art
This article was published on