Celebrating Fairtrade Fortnight
Fairtrade Fortnight 2013 will mark Edinburgh's ninth year as Scotland's first Fairtrade university.
A programme of events has been organised to celebrate Fairtrade Fortnight and Fair Trade city flags will be flying from our buildings.
Talk from fair trade producer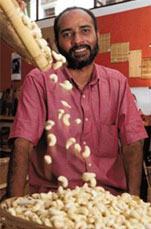 One of the highlights of Fairtrade Fortnight, which runs from Monday 25 February to Sunday 10 March, is a talk from fair trade producer Tomy Mathew Vadakkancheriil.
Tomy is co-founder of Fair Trade Alliance Kerala and Chair of the Association of Indian Fair Trade producers.
He owns two hectares of farming land, which produces coffee, spices, coconut, rubber, rice and cashews for the fair trade market.
Tomy's talk takes place on Tuesday 5 March at the Fair Trade Café in the University's Chaplaincy between 1.10pm - 1.20pm.
He will also be available to talk about fair trade before and after his talk between noon and 2pm.
Fair trade has meant that the coffee farmers in Kerala can earn a fair price for their coffee, they are taking care of their coffee trees and improving the quality of their crop as well.
Faitrade fortnight events
Activities during the two weeks range from a fair trade comedy show to a five-a-side football tournament.
Students will be running a coconut shy at a Fair Trade for Schools fair and giving out fair trade bananas at the Meadows Marathon.
What to look out for during Fairtrade Fortnight
To find out more about Fairtrade Fortnight go to the fair trade section of the University's website
Fairtrade Fortnight
This article was published on