Edinburgh Lectures: Scotland, Naturally!
We are again involved in the popular Edinburgh Lectures series. The theme for this year is "Scotland, Naturally!".
The lectures will celebrate the rich natural heritage that Scotland has at its fingertips and will cover a wide range of issues from natural to built landscapes, flora, fauna and food, to art in nature.
Our lecture "Scotland's Place in Earth's History" will be presented by Professor Aubrey Manning.
The event will be held in the Playfair Library, Old College on Wednesday 27 February at 6pm.
Full details of all speakers and lectures in the series are available on the Edinburgh Lectures website.
How to book
All lectures are ticketed and you must pre-book a ticket through the Usher Hall Box Office.
There is a £5 per ticket booking fee, refundable up to 3 days prior to lecture (personal callers only). There is a £1 non-refundable transaction fee for online and telephone bookings.
Call 0131 228 1155 or book online.
Professor Aubrey Manning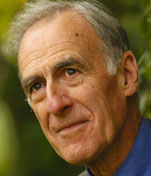 Aubrey Manning is Emeritus Professor of Natural History at the University. He is recognised as one of the country's leading authorities on animal behaviour.
Professor Manning began his scientific education with a degree in Zoology at University College London and has a doctorate in animal behaviour from Oxford University. He is a Fellow of the Royal Society of Edinburgh, holds a number of honorary degrees, a Zoological Society of London Silver Medal and was awarded an OBE in 1998.
In 1956, following two years in National Service, he became an Assistant Lecturer at the University of Edinburgh and - having fallen in love with the place - has been here ever since.
He was Professor of Natural History in 1971, a position he retained until retirement in 1997 and where he has inspired many undergraduates with his enthusiasm and passion for his subject.
Professor Manning presented BBC2's Earth Story and Talking Landscapes and more recently, he could be heard on the Radio 4 series such as The Sounds of Life.
Event details
Edinburgh Lectures - Scotland's Place in Earth's History
This event may be photographed or recorded for promotional or recruitment materials for the University and University approved third parties.
Wednesday 27 February 2013, 6.00pm
Wednesday 27 February 2013, 6.00pm
Playfair Library, Old College, South Bridge, Edinburgh, EH8 9YL
Contact details
For more information on this event, including any accessibility enquiries, please contact Deepthi De-Silva Williams.
Related Links
This article was published on