Degree Show showcases new talent
Extra-large kitchen utensils, woodland explorations and exorcisms provide a taste of what to expect at this year's ECA Degree Show.
For nine days in June, the College will be transformed into the capital's biggest gallery space as it celebrates the work of more than 500 graduating artists, film makers, designers and architects.
Opening times
The graduates' work is on display from 1-9 June at both the Lauriston Place campus and Minto House on Chambers Street.
The Degree Show is open Wednesday and Thursday (5 and 6 June) between 10am and 8pm, and all other days between 10am and 5pm.
Showcasing new talent
Previous shows at the College have launched the careers of BAFTA and Turner Prize winners.
For the first time, The Reid School of Music will also be holding a series of performances of graduating students' work at late night openings.
The extensive exhibition is open to the public and promises to excite and stimulate audiences with a vast array of innovative and challenging work.
Full details of all the exhibits can be found on the ECA Degree Show website
A snapshot of this year's show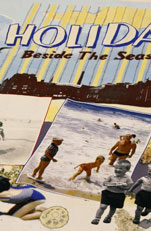 A number of students have created work to address issues faced by different groups in society.
In Textiles, Emily Martin's digital prints depict 1950's Edinburgh and will be hung in care homes, specifically for elderly people with dementia. Iona Fraser's interactive wall panels have been made for children with autism.
Lucy Murray Willis and Stephanie Suen's graphic designs were produced for a campaign to encourage people to save pocket change. Their project helped raise funds for a Disability Centre in Tanzania, which an ECA graduate helped to set up.
Graduates from the Edinburgh School of Architecture and Landscape Architecture (ESALA) will also have intricate models on display in Minto House and the main ECA Building. A number of students will present their imaginative plans for a new housing project in Broughton.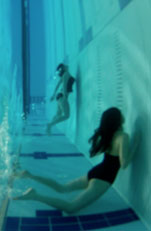 Playful perspectives
Rebecca Ashford's sculptures will play with our sense of scale as she exhibits a gigantic twisted fork surrounded by green peas.
Katia Kvinge's underwater videos also toy with perspective, while Dennis J. Reinmüller distorts reality as he exorcises the spirit of famous contemporary artist, Joseph Beuys, from the halls of the College's main building.
In painting, Catriona Meighan uses bright shapes and colour to inject fun into everyday objects. Meanwhile, Hannah Foley's inky illustrations will feature in a children's magazine she is launching at the show.
Hideaways and handlebars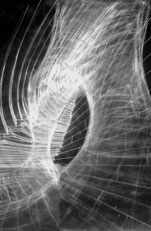 Interior Design student James Goldsworthy has designed an underground retreat created in anticipation of an apocalyptic event.
Elsewhere, Sally Morrison turns everyday objects - such as handlebars and oranges - into jewellery, making for an eye-catching collection.
Drawing inspiration from Scotland's fishing heritage, Kelly Munro's jewellery designs can also be found in Evolution House.
Sounds, silence and gender exploration
Intermedia art student Frances Morgan's sound installation confronts our fear of silence.
Other attractions include Duncan Cowles' short film Someone Almost Knew; a wry and sensitive piece which explores the reasons for a silence between his father and himself.
Tiia Makkonen portrays gender and sexual minorities with sensitive photographic portraits of those in the Edinburgh's LGBT community.
Award-winning graduates
Graphic Design students Ailsa Ogden and Rosa Nussbaum's collaborative project with Costume Design student Amy Lawrence - showcasing ties and shirts with unique prints - is already winning prizes.
The BAFTA-producing Animation Department also has a record number of students in the Edinburgh International Film Festival this year.
Event details
Edinburgh College of Art Degree Show
The Degree Show is open Wednesday and Thursday (5 and 6 June) between 10am and 8pm, and all other days between 10am and 5pm.
Saturday 1 June 2013, 12.00am
Sunday 9 June 2013, 12.00am
Venues
The work for the Schools of Art and Design and ESALA is on display at the Lauriston Place Campus and at Evolution House.
Graduates from the ESALA will also have work on display at Minto House, 20-22 Chambers Street, Edinburgh, EH1 1JZ.
Follow news and reaction to this year's show through the Twitter hashtag:
Photos courtesy of Kelly Munro, Emily Martin, Katia Kvinge and James Goldsworthy.
Related Links
Edinburgh College of Art Degree Show 2013
Undergraduate study - School of Art
Undergraduate study - School of Design
Undergraduate study - School of Achitecture and Landscape Architecture
Undergraduate study - History of Art
Undergraduate study - Reid School of Music
Edinburgh College of Art - Graduate School
This article was published on