Chemistry marks tercentenary
This year marks 300 years since the first professor of chemistry was appointed at Edinburgh.
A series of celebrations will mark the school's contribution to the discipline over its three centuries, and its continuing tradition of excellence.
The chair of chemistry, established in 1713, was first occupied by Professor James Crawford.
Strong pedigree
Other notable incumbents of the post include Professor Joseph Black, who discovered carbon dioxide.
He held the position from 1766 to 1799.
At this time, chemistry at Edinburgh had grown to attract students from as far afield as Europe and the New World.
During the industrial revolution, chemistry's position at the interface of engineering, medicine and physics helped shape industry and trade.
Research strengths
We are very proud of our heritage in chemistry at Edinburgh.
Hundreds of years later, chemistry at Edinburgh remains at the heart of scientific developments.
Researchers are at the forefront of fields such as developing new materials and compounds with a range of applications; applying chemical expertise to problems in medicine and biology; and probing the fundamental properties of molecules.
In the most recent Research Assessment Exercise, Edinburgh together with St Andrews was ranked first in chemistry in the UK in the power ranking.
Teaching excellence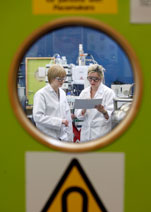 Teaching chemistry at Edinburgh remains a strong tradition.
In the latest national student survey, students gave a satisfaction rate of 100 per cent.
Chemistry students have won national prizes from the Salters' Institute every year for the past 16 years - more than any UK other chemistry department.
Enlightenment figures
This year's celebrations began with a Burns' Supper, marking the connection between Scotland's most famous poet and Professor Black.
Burns and Professor Black were contemporaries and acquaintances during the Scottish Enlightenment.
This year's Edinburgh International Science Festival, taking place in late March and early April, will include contributions from the School's staff and students.
Notable alumni
In summer, a chemistry symposium and dedicated graduation will take place, featuring a public lecture from alumnus Sir Fraser Stoddart.
Sir Fraser is widely recognised as a pioneer in nanotechnology and molecular chemistry.
Historic exhibition
In August until October, a public exhibition, Edinburgh 300: Cradle of Chemistry, will be held at the University's Main Library featuring treasures from the University's archives.
This will highlight the School's significant discoveries and its contributions to the world and its economies.
Items on show will include models of compounds made by Professor Alexander Crum Brown using knitting materials, and analytical scales for weighing chemicals used by Professor Black.
Centuries of influence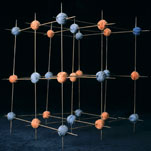 As the year of events draws to a close, an October symposium will mark chemistry in 18th-century Edinburgh.
This will focus on how chemistry at Edinburgh helped to shape the discipline and inspire chemists around the world.
A musical composition created by Julian Wagstaff to mark the tercentenary will be performed at a concert in late October to mark the closure of celebrations.
Students, staff, alumni and supporters of the School of Chemistry are warmly invited to become involved in the celebrations, by contacting:
Our chemists continue to help solve some of the greatest challenges facing society, as they have always done.
This article was published on