Carnegie legacy lives on in lecture series
Scotland's first Andrew Carnegie Lecture is to take place at the University.
The event is part of a ten-year initiative promoting international discourse in the arts.
Leading speakers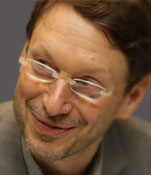 The Andrew Carnegie Lecture Series will be delivered annually over the next ten years by a leading international speaker that will help to inform and critique art and creative practice.
The inaugural lecture will be delivered by leading art historian James Elkins, from the School of the Art Institute of Chicago, in the Playfair Library on Thursday 16 January, 2014. The event is currently fully booked.
Professor Elkins' lecture, entitled Limits of the Discussion of Writing in Art History, will draw from his book entitled What Photography Is.
Andrew Carnegie Lecture Series: Professor James Elkins
This event is currently fully booked, but you may register for the waiting list and will be notified if any tickets become available.
Thursday 16 January 2014, 5.30pm
Thursday 16 January 2014, 7.00pm
The Playfair Library, Old College, South Bridge, Edinburgh, EH8 9YL
Find Old College on campus maps
Please follow @eca_edinburgh on Twitter for updates on further ticket releases.
Marking Carnegie centennial
Funding for the lecture series was provided as part of the centennial celebrations of Carnegie Corporation of New York, created in 1911 - one of the many institutions and organisations established by the Scottish-born philanthropist Andrew Carnegie in the late 19th and early 20th centuries.
Steel magnate Carnegie donated much of the wealth he generated by to help improve society, with a particular focus on education.
This also led to the foundation of the Carnegie Trust for the Universities of Scotland in 1901.
It is a privilege to host this series of events commemorating the enormous contribution Andrew Carnegie made to higher education in Scotland. By allowing the University access to key arts practitioners and researchers, the lectures will allow us to develop and enhance the research culture of Edinburgh College of Art as a whole, and contribute to a wider global arts agenda.
Scotland-wide endeavour
The lecture series will continue with separate events taking place at the Universities of St Andrews, Glasgow and Aberdeen later in 2014.
As well as giving a public lecture, each speaker will take part in a number of student workshops, seminars and one-to-one meetings with staff and students.
Commemorative materials
Following his visit, an interview with Professor James Elkins will be podcast and available online.
A publication will also mark the visit to form a distinctive series of commemorative materials to mark the Scotland-wide endeavour.
This article was published on