Happy return for alumni
Graduates from as far away as Australia and New Zealand returned to Edinburgh for a weekend of events that evoked memories of student life.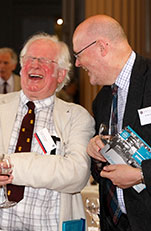 Music and laughter
A varied programme began with a welcome reception in the Playfair Library before alumni made their way to Teviot Row House to join current students for a lively evening of comedy and music.
Comedian compere Craig Hill, went down a storm with an audience whose ages ranged from late-teens to early-80s. Student musicians Cactus Pants then provided an opportunity for everyone to dance into the early hours.
State of the Union debate
The main academic event of the weekend was a lively debate in McEwan Hall on Scottish Independence and the future of the union, chaired by Profs Tom Devine and Charlie Jeffrey.
They were joined by an expert panel including Scottish Conservative leader Ruth Davison MSP - herself an Edinburgh alumna - Scottish Liberal Democrat leader Willie Rennie, independent MSP Margo MacDonald and Blair Jenkins, chief executive of Yes Scotland. The event was attended by almost 800 people.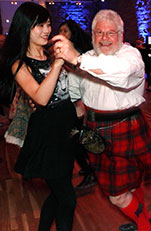 Haggis and BBQs
The focus then shifted to Pollock Halls where a ceilidh was held to the obvious enthusiasm of all attendees. As new friendships were forged, a dinner of haggis, neeps and tatties, and a whisky toast completed the traditionally Scottish atmosphere of the evening.
Other highlights were student-led tours of the campus and Old Town, and a family barbecue in Old College Quad. The weather may have been typically inclement, but spirits remained high for this enjoyable conclusion to the weekend.
We were delighted to welcome back so many of our alumni to this special weekend of events. Their enthusiasm has highlighted the special relationship the University of Edinburgh retains with all its graduates.
Related Links
Alumni Services
This article was published on