Debut show for 82 year-old sculptor
The first ever solo show of an 82 year-old sculptor and an exhibition capturing the current state of Scottish abstract art is on display at the University's Talbot Rice Gallery.
Anthony Hatwell: Sculpture & Drawing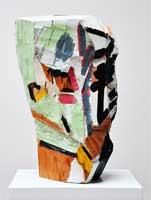 Anthony Hatwell is from the generation of artists who emerged after World War Two. He is the last surviving member of his artistic peer group, which included the likes of Bill Turnbull and Eduardo Paolozzi.
Despite a handful of works being included in group shows, Anthony Hatwell: Sculpture & Drawing is his first ever solo exhibition. Spanning 40 years, many of the works on show will be available for public viewing for the first time.
After studying in London in the early 1950s Hatwell moved to Scotland. As head of sculpture at Edinburgh College of Art for more than 20 years (1969-90) he ushered modernism into the college while gaining a reputation as an enigmatic figure who was guarded about his own work and often kept it hidden.
Drawn Away Together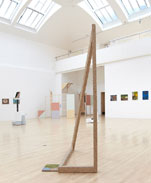 Drawn Away Together features 11 Scottish or Scotland-based painters, sculptors and installation artists who explore abstraction in their work.
The exhibition features different generations of artists who span a wide range of ages and career stages, from Malcolm O'Connell, a current undergraduate, to Alan Shipway, who has been exhibiting for more than 30 years.
Several new works have been commissioned specifically for the exhibition. Miranda Blennerhassett has created a new wall-painting that spans the entire length of the upstairs balcony. Paul Keir's will alter and adapt his installation throughout. Rachel Barron has installed a drawing device that will create new abstract prints.
The other artists exhibiting in Drawn Away Together are: Kevin Henderson, Lorna Macintyre, Andrew Mackenzie, Jo Milne, Neil Nodzak, Eric Schumacher, and Alan Shipway.
Drawn Away Together/Anthony Hatwell: Sculpture & Drawing
Open Tuesday to Saturday. Admission is free.
Saturday 16 March 2013, 11.00am
Saturday 4 May 2013, 5.00pm
Talbot Rice Gallery, Old College, South Bridge, Edinburgh, EH8 9YL
Related Links
Talbot Rice Gallery
Study sculpture at Edinburgh College of Art
This article was published on