Sir Chris Hoy is Alumnus of the Year
Britain's most successful Olympian, Sir Chris Hoy, has been honoured by the University that kick-started his cycling career.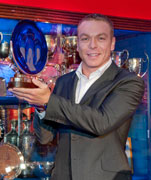 The six-times gold medallist, who studied Applied Sport Science at Edinburgh, was made the University's Alumnus of the Year 2012 at a ceremony attended by 200 enthusiastic students, staff and invited guests.
Video
In this short film, Sir Chris explains why what he learned at Edinburgh was so important:
Prestigious prize
The award is made annually to former Edinburgh students who have made a significant impact in public life. Past winners have included writer Ian Rankin, former Director General of MI5 Stella Rimington and Olympic rower Katherine Grainger, who also took gold at the London 2012 Games.
Receiving his award from the University's Principal and Vice-Chancellor, Sir Timothy O'Shea, the Edinburgh-born track star paid tribute to the part that the University played in making him a top cyclist.
My time spent studying at Edinburgh was a very important stage of my career. Not only was I working to improve my physical abilities, I was actually learning about the principles of what I was doing. On my visit today, I was blown-away by the facilities now available to the students here.
Sir Chris graduated with a BSc in Applied Sport Science in 1999. This course focuses on all aspects of performance, including sports psychology, physiology, biomechanics and motor control. Also on the course with Sir Chris was the former Scotland and British Lions rugby star, Tony Stanger.
The ceremony took place in the University's Centre for Sport and Exercise. Its facilities, ranked among the very best in the UK, were used by Team GB swimmers in the run-up to this summer's Olympics.
Part of the GB team was Edinburgh University swim team member Michael Jamieson, who won silver in the 200m breaststroke at the London Games.
Related Links
Centre for Sport and Exercise
This article was published on