Giant hologram gives training extra dimension
A full colour, animated 3D hologram of the human body is to go on public display for the first time.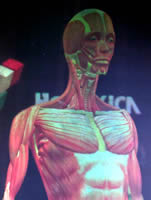 It is the first anatomy teaching tool of its kind in the world.
Viewed from different angles, the life-sized teaching device shows muscle structures, skeleton, internal organs, blood vessels and nerves.
Teaching tool
Visitors to the University's Anatomy Museum will be able to study the new teaching tool, which is the largest anatomical hologram ever made.
The 3D image of a female body is made of three synthetic layers and stands 1.7 metres high.
Future learning
It is hoped that viewing the body in this way - in addition to conventional 2D textbooks- will further help students to understand the complexity of human anatomy.
The Hologram was produced in collaboration with University anatomists and Scottish company Holoxica, one of the world's leading research companies in holographic 3D displays.
The hologram was commissioned by the University of Edinburgh's School of Biomedical Sciences. It will go on display at different sites across the University in the coming months.
Teaching the true 3D structure of the human body to medical students can be challenging when teaching material is largely all in 2D. We hope that this Hologram and others that we make in future, will introduce our students to a novel and innovative way of visualising 3D anatomy.
This article was published on