Centre boosts regenerative medicine
Research into conditions from multiple sclerosis to heart disease will benefit from cutting-edge stem cell research facilities.
The £54 million Scottish Centre for Regenerative Medicine (SCRM) was officially opened by Her Royal Highness, the Princess Royal, who is the University's Chancellor.
Scottish Centre for Regenerative Medicine
The centre will carry out cutting-edge stem cell research to help find therapies for patients with conditions such as multiple sclerosis, Parkinson's disease, motor neurone disease, and heart and liver diseases.
It is the first large-scale, purpose-built facility of its kind and provides accommodation for up to 250 stem cell scientists.
The building has received funding from the University of Edinburgh, the Medical Research Council (MRC), Scottish Enterprise and the British Heart Foundation.
Recent research into stem cells has heralded the beginning of a revolution in modern medicine.
Video report
This report explores the cutting-edge research at the Centre.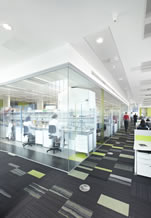 Stem cell research
The building - which houses the University's Medical Research Council Centre for Regenerative Medicine - has the most up-to-date facilities in the UK.
This includes a Good Manufacturing Practice facility, which meets the highest guidelines, to manufacture stem cell lines that could be used for patient therapies.
The Scottish Centre for Regenerative Medicine's great strength lies in bringing world-class clinicians and scientists to work together, encouraging the translation of laboratory discoveries into treatments for patients. The research will help in finding treatments for devastating conditions, for which there are currently no cures.
Edinburgh BioQuarter
The Princess Royal also opened Nine, a Scottish Enterprise building.
The building, funded by Scottish Enterprise and the UK Government's Department for Business, Innovation and Skills, offers bio-incubator facilities at Edinburgh BioQuarter for established biotechnology and start-up ventures.
Both Nine and SCRM represent major developments at Edinburgh BioQuarter, in the Little France area of Edinburgh.
Edinburgh BioQuarter also encompasses the Royal Infirmary of Edinburgh and the University's Queen's Medical Research Institute and Chancellor Building.
Photography: Douglas Robertson, Matt Davis.
This article was published on