New Year Honours: Dr Dlugolecka-Graham
Dr Maria Dlugolecka-Graham has been recognised in the Queen's New Year's Honours List 2010.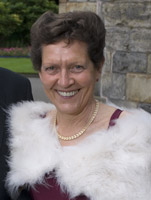 Dr Dlugolecka-Graham is the University's Coordinator for the Polish School of Medicine.
She was awarded an MBE for services to medicine and Polish-Scottish relations.
The Polish School of Medicine
The Polish School of Medicine was founded in 1941.
A unique wartime initiative, the School was set up to meet the needs of students and doctors in the Polish armed forces.
It closed its doors in 1949 but the School's legacy lives on.
The Polish School of Medicine Memorial Fund was set up in 1986, marking the 45th anniversary of the School.
It provides scholarships for talented Polish medical students to carry out further study or research at the University.
Also established in 1986 was a collection containing medals of medical interest, sculptures, paintings, photographs, books and other artefacts about the School.
Much of this collection is on view in the Chancellor's Building at Little France.
Related Links
This article was published on