National eLearning award for Surgical Sciences
The College of Medicine and Veterinary Medicine's online MSc in Surgical Sciences - run jointly with The Royal College of Surgeons of Edinburgh - has just scooped the Gold Award for The Best Online or Distance Learning Programme at the 2010 e-Learning Awards in London.
This award is an outstanding achievement for all those who have contributed to the development and delivery of our programme over the last four years. It is pleasing for the team's hard efforts received this national recognition so quickly. The University and Royal College of Surgeons of Edinburgh wish to continue to build on this success and to identify further innovative ways to support surgical trainees throughout their training.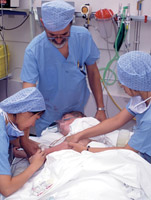 The Edinburgh Surgical Sciences Qualification (ESSQ) was established by The University of Edinburgh and the Royal College of Surgeons of Edinburgh in 2007 as a response to the considerable changes in surgical training. Designed to support trainees in the early years of surgical training by means of a three year, part-time distance, e-learning Masters programme, it has been structured to be relevant to their professional development and professional examination (Membership of the Royal College of Surgeons, MRCS).
Students learn in an innovative e-learning platform, with virtual case scenarios, discussion boards and the assistance of a multidisciplinary group of e-tutors, and can progress from a Certificate (60 credits - basic science relevant to surgery), to a Diploma (120 credits - taught route to the MRCS) and an MSc in Surgical Sciences (180 credits - with research component) over a three year period.
The programme delivered its first group of graduates in July 2010 and has demonstrated in its short existence that the format meets with strong student approval, resulting in increasing recruitment year on year and a significantly improved success rate for ESSQ students in the MRCS examination. There are currently 224 surgical trainees enrolled in the programme.
Much of the appeal of the ESSQ to surgical trainees is that the programme is administered by two thoroughly reputable institutions, it is flexible enough to allow online learning to fit around their busy working life, and it leads to development of an academic portfolio and qualification- in addition to assisting them to success in the MRCS examination.
This article was published on