Visit Us
Are you visiting Edinburgh for a festival? In between shows, why not head off on a walking tour, use our sports facilities or explore our museums and galleries. You also have the option to stay with us at our range of accommodation.
Tours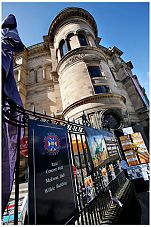 Follow our self-guided walking tours for a flavour of the University, the city and student life, or come and look around the University at your own pace with our self-guided tour leaflets.
Museums and galleries
The University houses extensive museum collections and hosts a range of exhibitions during the festival and throughout the year.  This is your chance to explore contemporary visual art and musical instruments or view geological specimens and historical artefacts. 
Sport facilities
The University of Edinburgh's superb sport and exercise facilities are ranked among the very best in the UK.
Sport & Exercise  caters to a diverse range of users from occasional exercisers to international athletes.   
Stay with us
The University of Edinburgh offers year round hotels and summer accommodation available to visitors to Edinburgh.
Please visit The University of Edinburgh Hospitality and Events Collection, the University's  accommodation, catering and events organisation.
This article was published on